Chairwoman Dang Thi Hoang Yen Closing Speech at ASEAN Business Investment Summit (ASEAN-BIS 2010), October 28th 2010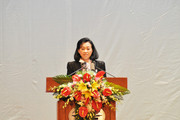 ASEAN BIS 2011 which will be held in Indonesia, will continue to build on the achievements attained by this ASEAN BIS 2010, so that it will further strengthen the integration of the region and fulfill ASEAN as a unified community on the economic and political fronts, but also in the areas of security, defense and culture by 2015. Through these efforts, ASEAN region competitiveness will be further enhanced globally.
Distinguished guests, My colleagues at the ASEAN Business Advisory Council (ABAC) , Ladies and Gentlemen,
I am extremely proud that this year, my country Vietnam, is the host and chair of ASEAN. We had a wonderful opportunity to lead and organize a number of Regional Forums this year as Chair of ASEAN.
Let me give you a quick update on ASEAN achievements in one year:
In terms of the Economy, Trade value of intra-ASEAN has increased significantly this year and reached over $400 billion. This played an important role in the economic development of the region as ASEAN itself grew its domestic market. ASEAN's GDP in 2010 reached $ 1.5 trillion and growing at a steady rate of about 6% per year. In an environment where the world economy is still recovering slowly, ASEAN countries are working together efficiently to overcome global crisis and to become one of the engines to push toward global recovery.
In the Political area, the role, reputation and importance of ASEAN in the international arena is undisputed and has been further enhanced. Today, ASEAN has become an important political & economic entity of Southeast Asia and Asia – Pacific region. ASEAN has successfully initiated and played a key role in many important cooperation mechanism including ASEAN + 1, ASEAN + 3; ASEAN Regional Forum (ARF), the East Asia Summit (EAS) . ASEAN has also an important role in various regional and inter – regional cooperation mechanisms such as Asia-Europe Meeting (ASEM), Asia-Pacific Economic Cooperation (APEC); ASEAN has also become an observer at the United Nations General Assembly, ASEAN has strategic relations with many regional and inter regional organizations including Gulf Coast Consortia (GCC), South Asian Association for Regional Cooperation (SAARC).
I like to share with you a recent success story of a meeting that Vietnam as chair of ASEAN led and organized. This meeting happened only just three weeks ago in Hanoi, the Asean Defence Ministerial Meeting (ADMM) which involved not only ASEAN and our partners here in Asia, but also the United States. The ADMM happened right during the time of a declining situation between Japan and China. The ADMM was a major success as international observers commented that the meeting removed a significant amount of tension, suspicions and feelings of ill intent amongst all impacted countries. More importantly, it provided a most timely dialogue, at a critical period.
Ms. Dang Thi Hoang Yen – Chairwoman of the ASEAN Business and Investment Summit 2010 (ASEAN BIS 2010).
I am very proud that Vietnamese government can play host and be successful to promote such efforts and dialogues of peace and stability in the region. We were able to diffuse the tense relationships amongst such affected countries through the success of meetings such as ADMM. ASEAN-BIS 2010 will, likewise, provide such a platform for further progress and dialogue toward ASEAN peace and integration efforts. In the last two days, I know that the time that every delegate had invested would be greatly rewarded as we work toward making further progress for ASEAN's theme of "Towards the ASEAN Community: From Vision to Action". Our commitment to the future generations of people in ASEAN will be fulfilled through the integration of an Economic Community by 2015.
At this time, I like to acknowledge the efforts and support of a number of organizations, which without, we would never have been able to have such a successful ASEAN BIS 2010.
Thanks to the organizers : Asean Business Advisory Council, Vietnam Chamber of Commerce and Industry, ASEAN Chambers of Commerce and Industry, the East Asia Business Council, the Greater Mekong Sub-Region Business Forum and the combined efforts of the Government of Vietnam, including the Ministry of Foreign Affairs, The Ministry of Industry and Trade and the Vietnam Government Office, a big Thank You!
I like to also say a Big A Thanks to all our sponsors (point behind and above to the billboard above you) including Tan Tao Group of course, for all your generous support and sponsorships.
Thanks to the Television and Media Groups for your support too in communicating this event.
I also want to thank all of you here, for being a big part of ASEAN BIS 2010 great success through your participation and engagement.
In closing, I like to say that 2010 is the year of ASEAN achievements in economic and political development. I know that the ASEAN BIS 2011 which will be held in Indonesia, will continue to build on the achievements attained by this ASEAN BIS 2010, so that it will further strengthen the integration of the region and fulfill ASEAN as a unified community on the economic and political fronts, but also in the areas of security, defense and culture by 2015. Through these efforts, ASEAN region competitiveness will be further enhanced globally.
Our distinguished guests, Ladies and Gentlemen, On behalf of all my colleagues at the ASEAN Business Advisory Council, I declare this ASEAN Business and Investment Summit 2010 officially closed.
Thank You