Credit agreement signing for Dakmi 2 hydro power plant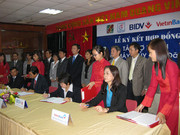 On November 17 2010, Agrita-Quang Nam Energy Corporation (Agritam) and lenders (Bank for Investment and Development of Vietnam - BIDV, Vietnam Joint Stock Commercial Bank for Industry and Trade – VietinBank, Bank for Agriculture and Rural Development of Vietnam - Agribank) held a credit agreement signing ceremony for Dakmi 2 Hydro Power Plant Project in Phuoc Son District, Quang Nam Province.
Agritam is a joint venture between Tan Tao Group and the Agriculture & Irrigation Mechanization -Electrification and Construction Corporation (Agrimeco).
The ceremony had the attendance of Mr. Le van An, President of Agrimeco and the Board Member of Agritam, and Ms. Nguyen Thi Suong, Vice President of Tan Tao Group, representative leaders of financing banks and invited guests.
According to the credit agreement, BIDV's main transaction office 1 (lender, lead bank, property guarantee), VietinBank – Hoang Mai Branch (lender), Agribank – Lang Ha Branch (lender) have committed to funding VND 1,705,000,000,000 for the Project.
Representatives of the Owner and three banks sign the credit agreement
"Dakmi 2 Hydro Power Plant is the second terrace in the Dakmi River of the Vu Gia – Thu Bon watercourse in Phuoc Loc commune (right bank of Dakmi River) and Phuoc Cong commune (left bank of Dakmi River), Phuoc Son district, Quang Nam province. Dakmi 2 is a high pressure hydro power plant with the installed capacity of 98M and with annual average output of 415.88 million kWh (GWh). Upon completion and operation, the Plant will significantly contribute to the national electricity grid, boosting the socio-economic development of the remote and mountainous project area. The banks' credit for the Dakmi 2 Project will add sufficient capital for Agritam to execute the project on schedule and to ensure the electricity generation in August 2014 as committed", stated Mr. Le Van An, President of Agrimeco and the Board Member of Agritam.
Mr. Le Van An, President of Agrimeco and Member of the Board of Management of Agritam delivers a speech at the signing ceremony
The construction of Dakmi 2 Power Plant Project is expected to be commenced in July 2011.
ItaExpress