Groundbreaking ceremony of Liksin 's Production Complex in Tan Duc Industrial Park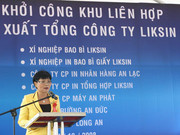 In the morning of December 27, 2008, the groundbreaking ceremony of Liksin Corporation's Production Complex took place in the Tan Duc Industrial Park, Duc Hoa district, Long An province.
The ceremony joyously accepted attendances by Mr. Phan Thanh Phi, Head of Long An Industrial Zone Authority, representatives of ICIC design consulting units, contractors (SAMCO corporation) and inspection unit (IDCo), the Management Board, Board of Directors, and affiliated units of Liksin Corporation.
Ms. Nguyen Thi Ngoc Chau – Vice president of the Tan Duc Investment Corporation, an affiliated company of the ITA Group, was also present at the ceremony.
Liksin is a holding company engaged in business and production of printing, packaging, inks, chemicals, mechanics, paper, industrial machines, providing information technology services & scientific research training, housing business, leasing factory plants, warehouses, financial investment.
Liksin consists of 4 affiliated units, subsidiary companies, 27 associated companies and a vocational school.
Liksin 's packaging printing complex in the Tan Duc Industrial Park will cover an area of 93,436 square meters with a total investment of VND 258 billion in production of multi-layer flexible packaging in bags and rolls, paper bag and commercial printing products and services.
The groundbreaking ceremony of Liksin Corp's Production
Complex in the Tan Duc Industrial Park.
In the first phase, Liksin is projected to develop 43,000 square meters composed of 20,000 square meter packaging factory, 15,000 square meter paper packing printing factory, 10,00 m2 mechanic workshop, An Lac label printing factory covering 3,500 square meter area, and a 2500KVA transformer station, water supply system and other amenities
"Liksin Corp's Production Complex is the 45th factory to operate in the Tan Duc Industrial Park", said Ms. Nguyen Thi Ngoc Chau, Vice-president of the Tan Duc Corporation at the ceremony.
Vice-president of Tan Duc Investment Corporation speaks at the ceremony.
After over 3 years of construction, Tan Duc has attracted 87 investors at 95 percent occupancy of the industrial park stage one, 273 hectares, including 19 foreign investors, with a total registered capital of VND 2,200 billion and USD 78 million.
There are twenty three factories in operation and another twenty one under construction in the industrial park. Tan Duc Corp has currently been developing the second phase of Tan Duc IP with an expanded area of 270 hectares and 10 investors have registered to lease land.
Viet Thang (Translated by)