_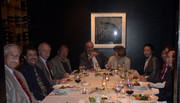 The Managing Board of Tan Tao University (TTU) gathered on December 18, 2008 in Houston, USA to discuss operating plans for Tan Tao University in the upcoming time. The Managing Board of Tan Tao University are composed of Ms. Dang Thi Hoang Yen, Chairwoman of the Board of Trustees of the TTU; PhD. Mark Sheid, President of the TTU ; PhD. Vo Tong Xuan, Vice-president of the TTU and PhD. Malcolm Gillis and Dr. Andy MacPhillimy.
The aim of the Tan Tao University is to establish two joint colleges comprising Engineering & Technology College and Economics College by 2010.
The university is scheduled to select 500 outstanding students among thousands of students across the country winning the Hoa Trang Nguyen Prize sponsored by the ITA Group in 2008 to teach English in preparation for its official training operation in 2010. When it starts official operation, the Tan Tao University will provide courses in English in accordance with American curriculum standards.
The members of the Managing Board of Tan Tao University meet in Houston, USA.
ItaExpress