Prompt execution of Kien Luong Thermal Power Project: Plant layout expected to be handed over in late 2010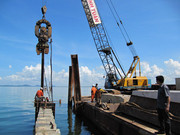 Kien Luong Coal-Fired Power Complex – KLPP is a large thermal power project with a total investment of about US$ 6 - 6.2 billion, and Tan Tao Group-ITACO has been approved by the Prime Minister for investment of this project with a total capacity of 4,400 MW (Official Letter No. 1385/TTg-KTN dated August 25, 2008). It will be built in the EPC mode and will be entirely located in 265 hectares offshore area in Ba Hon Hamlet, Kien Luong town, Kien Luong district, Kien Giang province, 20 km away from Ha Tien town. This is one of the national key projects in the Power Plan VI.
The project is composed of three phases in the period of 2009-2018, including phase 1 and phase 2 each with a capacity of 1,200 MW (2 units of 600 MW) and phase 3 of 1,000 MW (2 units of 500 MW). The electricity output generated to the national grid is expected to be 8100 billion to 8640 billion kWh per year. Phase 1 of the project (Kien Luong Thermal Power Plant 1) with a total investment of approximately $ 2.5 billion will be built on 100 hectares and will mainly use imported coal with total demand of 3.5 million tons per year and it is projected to be operational in 2013-2014.
Deep-water port as a key
KLPP was previously investigated by renowned international investors for 7 years but they had to give up on it. After knowing the importance of the project, ITACO has jumped in and hired world leading and local prestigious consultants. After nearly one-year investigation with fully equipped ships and based on the data from Vietnam's research institutes, it found out that: KLPP was not feasible because there was no seaport, and construction of a seaport in Kien Luong is very costly and uneconomical. Not accepting that fact, ITACO has decided to hire many foreign consultants Mott Macdonald (UK technical consultant), Black & Veatch (U.S. feasibility study consultant) and a number of senior foreign specialists, to proceed the investigation and purchased the information data of the National Aeronautics and Space Administration (NASA). After 12 months of study and investigation, the specialists have discovered a solution to ensure the feasibility of Kien Luong Thermal Power Complex. It is the construction of deep-water port on Nam Du Island in Kien Giang Bay, 54 km away from An Bien coast (Kien Giang province).
Six months later, on January 12, 2009, according to the appraisal result 0318/BCT-NL, Ministry of Industry and Trade officially approved the basic design of Phase 1 of the plant that was submitted by the investment owner. On July 23, 2009, the Kien Giang Provincial People's Committee also issued Investment Certificate (GCN No. 56121000615) for Kien Luong Thermal Power Plant 1 (KL1). In particular, according to the Finance Ministry's proposal, Kien Luong Thermal Power Project is an electricity generation investment project in the national electricity development power plan VI for the period of 2006-2015, with a vision to 2025. Therefore, it is allowed to adopt Article 3 of the Prime Minister's Decision No. 110/2007/QD-TTg dated July 18, 2007 stipulating that: the projects of power sources, transmission lines interconnected to the national electricity system for the period of 2006 - 2015 invested by domestic enterprises shall be in accordance with the Prime Minister's Decision No. 1195/QD-TTg dated November 9, 2005. On that basis, the Prime Minister approved in principle Government Guarantees for Kien Luong 1 Power Plant of KLPP in Official Letter No. 5040/VPCP-KTTH on July 27, 2009.
Over three years (2007-2010), the investment owner ITACO worked with world leading consultants to ensure the adoption of advanced technology, environmental protection and ensure high feasibility of financial arrangements in the period of world financial crisis. The international consultants of the project comprising of technical consultant Mott McDonald (UK), coal consultant Marston (USA), Financial Consultant Standard Charter (UK), Delloitte tax consultant(U.S.), KPMG Audit (U.S.), insurance consultant Willis (USA), law consultant Shearman & Sterling (USA).
Difficulty of rock transport for sea reclamation!
According to Mr. Bui Ngoc Suong, Chairman of Kien Giang Provincial People's Committee, the signatory granting the investment certificate to ITACO, the presence of KLPP along with Nam Du port will not only meet the increasing load demand, but also contribute to promote the image of Kien Giang, create new attractiveness of the province to investors. Furthermore, it will form linkages with other economic centers, thus making a buffer for industrial development of the entire Mekong Delta.
Nevertheless, since the project is completely situated in the sea, backfilling is a rather difficult issue. Since the reclamation quantity for all 3 phases amounts to 48 million cubic meters, the search for reclamation material sources is very important to the project. Nevertheless, despite very active collaboration with local authorities in search of on-spot reclamation materials, Kien Giang people's committee had issued an official response that the mines proposed by ITACO had been allocated to other investors (mines such as Hon Heo, Tra Duoc ...), or in the prohibited areas for military and defense purposes (Vinh Mountain, May Mountain, Mui Cop Mountain). Thus, there are almost no available materials in Kien Luong district.
Despite that fact, 5.5 million cubic meters of mud has been dredged, the backfilling of 88 hectares (accounting for 70% of backfilling quantity) of Kien Luong 1 Thermal Power Plant, including 60 hectares of the plant layout, 10 hectares for roads, technical systems, electricity systems, water reservoirs, boxed culverts, helicopter parking and green parks and 18 ha for resettlement area, office , housing for experts and workers... In addition, hundreds of thousands of sheet piles with 1m wide and 28-44m long weighing 15-25 tons, produced according to proprietary technology of Misubishi (Japan) have been transported and built to establish a dike system for the entire project area. By mid September 2010, the piling contractor had completed 6.5/8 km of sheet piles for breakwater. According to engineer Le Van An, Labor Hero, Agriculture and Irrigation Mechanization Electrification - Construction Corporation (Agrimeco) belonged to Ministry of Agriculture and Rural Development, with over 45,000 engineers and employees across the country, said: "This breakwater is the largest and unique in Vietnam and uses the sheet piles of Mitsubishi's proprietary technology that has never been adopted in Vietnam". In October of 2010, Agrimeco will bring a large number of engineers and workers and thousands of equipments and machinery to Kien Luong to build a fresh water reservoir, and use the excavated soil for sea reclamation, help resolving the scarcity's issue of backfilling materials.
Hopeful plant layout's hand-over in December of 2010
Along with the backfilling, ITACO is promptly building infrastructure and ancillary structures of the plant. The access way connecting the plant to the national transportation system have been completed; internal roads of about 5km have been almost completed; electricity supply and water supply has been extended to the plant fence. Nevertheless, due to low water pressure, the owner has had to build a water reservoir of 10 million cubic meters and a water supply plant with a capacity of 50,000 m3 per day to ensure water supply for all three power plants of KLPP.
During the working session with the Steering Committee of deployment and implementation of KLPP in Kien Giang province in the morning September 28, 2010, President of ITACO Thai Van Men affirmed that ITACO was striving to untie the difficulties in order to commence construction of Kien Luong 1 plant in December of 2010. According to the KLPP Project Steering Committee, three major difficulties need to be resolved for commencement of the first phase later this year. The first one is the shortage of backfilling materials to increase -4m and -13m elevation to +3.27m elevation; the second is pending for Government's Guarantee (GGU), and the last is the negotiation of power purchase agreement (PPA) with Electric Power Trading Company (EPTC) of EVN.
Concerning shortage of backfilling materials, during the meeting, ITACO continued to request Kien Giang province's leaders to permit the exploitation of mines in the mountains Hon Tre, Ong Cop, Huynh and Son Tra. Nevertheless, according to Vo Duy Linh, Deputy Director of Department of Natural Resources and Environment of Kien Giang province, the material mines that ITACO has proposed were already assigned to other investors, or are situated in the prohibited areas for military and defense purposes. Thus, there are almost no more material resources in Kien Luong district. According to Director of the Provincial Department of Planning and Investment Le Khac Ghi, ITACO needs to focus on resolving the second and third difficulties comprising obtaining PPA with EVN and Government guarantee and capital is the most difficult issue. According to Chairman of Tan Tao Group Dang Thi Hoang Yen, the Group aggressively works with more than 15 foreign and local consultants, large banks of international credit institutions and the China Export & Credit Insurance Corporation (Sinosure) on loan for the project. ITACO also received positive commitments from banks. Especially, on September 24, 2010, Sinosure issued an in-principle agreement to provide investment insurance for the project. Nevertheless, according to Chairwoman Yen, the loan's examination will be only officially taken into consideration after GGU and PPA with EVN have been achieved.
Concerning the GGU negotiation, ITACO is awaiting for the Government's approval of guarantee and undertakings submitted by Ministry of Industry and Trade on July 09, 2010 in Statement No. 6829/TTr-BCT, and in Clarification Letter No. 8343/BCT-NL on August 18, 2010 after the guarantee and undertakings have been unanimously agreed by ministries and departments. ITACO and its affiliates have spent approximately VND 1,800 billion since July of 2007. It is expected that another 400 billion from its issued bonds will be needed to timely hand over the land to the owner in December of 2010. According to Vice Chairman of Kien Giang province Mr. Pham Vu Hong, the province will always provide favorable conditions for project deployment of ITACO because this is a national key project. He also suggested ITACO coordinate with local authority to exploit backfilling materials on site or to purchase and have them shifted from other places. He also requested Kien Luong district to well carry out the land clearance and compensation for early delivery to the owner.
Reporter Xuan Thai at Kien Luong Thermal Power Project Garden
With such a giant project as Kien Luong Thermal Power Complex, besides the policy of the Government, ministries, sectors and Kien Giang province, the coordination efforts of the owner and associated parties will play a very important role in ensuring the project implementation schedule, contributing to the implementation of the national electricity development plan for the period 2006 – 2015, with a vision to 2025.
VnEconomy