Speech of Madam Yen Dang – Asean – India Business Conclave – Topic: Asean – India partnership: From vision to action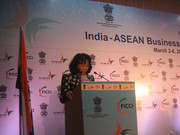 The ASEAN – India Free Trade Agreement signed in 2009 will open a prospective future for the relationship between us. However it is only the first step. I very much expect that India can become the 22nd member of APEC in this year 2010 and our relationship can advance further via the signature and launching of other cooperation agreements on investment, financial market, Industry, services, human resource. As a ABAC representative of Vietnam and ASEAN region, my country and ASEAN fully endorse India's membership into APEC grouping.
Good afternoon ladies and gentlemen,
For the first words, I would like to express my happiness and my great honor to represent here contributing my knowledge and experiences to establish a stronger and more sustainable partnership between ASEAN and India.
This partnership, as my estimation, is very prosperous since it is set up on a firm basis that is our long-standing friendship. Let me cite you an example of Indian history in my home country, Vietnam: A proud country called the Champa Kingdom existed since 192AD, Hindu temples were built in My Son in central Vietnam, in the foothills of a mountain range 60km southeast of Da Nang. A number of Indian cultural practices and beliefs have transpired through my country and the Vietnamese people. So we have civilization and cultural links dating back thousands of years. Though, India and ASEAN found themselves advocating different economic strategies and supporting distinct political ideologies in the Cold War, things began to change in the late 1980s and early 1990s. ASEAN-India dialogue relations have grown to a full dialogue partnership in December 1995, This led to India becoming a full pledged member of the ASEAN Regional Forum in 1996. The relationship was further elevated with the convening of the ASEAN-India Summit in 2002 in Phnom Penh. Since then the ASEAN-India Summit has been held annually. In 2009, ASEAN and India were happy to celebrate the signature of ASEAN – India Free Trade Area. All these took place within a decade, which clearly signifies the importance of the dialogue partnership to ASEAN and India and the progress we have made in such cooperation.
Moreover, our partnership can make us more powerful to rebound and to speed – up our economic development in the context that we still much affected by the World Economic Crisis. Since the global financial crisis, the World Economy is now rebounding despite pockets of uncertainty in a number of regions including EU. Even in the USA, the equity markets are improving and unemployment is lower at 9 percent. However globally, there are now higher risks of inflation from food and commodity shortages due to flooding and disasters in major producing countries. Gold to date is at its highest price in years. The top three economies in the world which is US, China and Japan are at different stages of their growth and economic development. The USA is still trying to kick start its economy though it faces a number of difficulties: increasing budget deficits with a lower value of the USD, high unemployment rate, differences between the Republican Party and Democratic Party in economic development and strategy; whilst China is still keeping its high growth rate of over 10%, though it is seeing a higher valuation in the RMB and also increased Inflation Rate at 4 to 5 percent in recent months; Japan is still in the flat growth mode and its economy is regressing.
In this context, India and ASEAN (along with Brazil, Russia) represent the most ebullient part of the world economy and are expected to be the engine to drive the World Economy Rebound with by their high growth rate (over 8%). This new economic dynamism is further fueled by cheaper and skilled human resources and a large market.
Despite the high growth rate and dynamism of ASEAN and India region, we are relatively small and still developing economies. Our voices may not be significant enough on the negotiating table with other developed economies. An ASEAN-India economic nexus will create a balance between on one side relative to the largest and more developed economies such as the US, EU, Japan and China. Thus the ASEAN-India cooperation will have a more solid basis for its combined voice to be heard in the global markets.
The cooperation between ASEAN and India will not only enable this grouping to complement one another, strengthen our role in the World Economy and drive ASEAN and India economic development faster, but also leads the development of the ASIA's Economy and make the ASIA role even more relevant in the world economy.
To have a strong and sustainable relationship between ASEAN and India, we have to take action immediately to define and further build on our integration supported as follows:
Firstly, on the vision of integration forms, The ASEAN – India Free Trade Agreement signed in 2009 will open a prospective future for the relationship between us. However it is only the first step. I very much expect that India can become the 22nd member of APEC in this year 2010 and our relationship can advance further via the signature and launching of other cooperation agreements on investment, financial market, Industry, services, human resource. As a ABAC representative of Vietnam and ASEAN region, my country and ASEAN fully endorse India's membership into APEC grouping. Such further agreements will build and sustain our ASEAN-India cooperation in the future.
Let me suggest some additional forms of cooperation as below:
Shared interests in Agriculture
India is a populous country with a population of approximately 1.2 billion and a population growth rate of 1.54% per year. Besides, it is also a country that is much affected by natural disaster and climate change similar to China. (For Mdm Yen's info only: In 2010, India is ranked the second natural disaster country of the world (after China – Nations Unions). Such natural calamities cause serious problems of food security to the Indian government.
While ASEAN is well known as the biggest food exporter of the world, Thailand and Vietnam are the 2 most significant rice exporters with exporter value of 9 million T and 6.6 million T respectively. Moreover, ASEAN is also a region with competitive advantages in the export of seafood, spices and grains which are relevant to the Indian market. The AIFTA signed in 2009 provides a very favorable platform to further liberalize agricultural trade between our two regions.
Establishing production chains in which both ASEAN and India can contribute their own competitive advantages
India is known as a country with high level human resources, but also a powerful country in terms of innovation and science research. ASEAN, being a diversified economic region, offers competitive advantages in terms of management/ business knowledge and capital resources as in Singapore, Thailand, and Malaysia and also in terms of cheaper labor cost structures such as Vietnam, Laos, Cambodia. It is our expectation that the ASEAN India production chain can create products with high competitiveness in term of innovation, lower cost and marketing.
Moreover, the ASEAN–India region also presents an ideal platform to approach other prospective markets such as: US, EU, China, East Asia, Middle East, Africa, and Australia. So I believe in the initiatives of establishing a production chain with innovation and technology know-how from India combined with fertile land and productive labor, management/business knowledge from ASEAN. I can look forward to the day when Tan Tao Group would be part of this production chain.
Secondly, we have to reduce the dependence of economy on exports. Building an economy based on exports is a good solution for many developing countries. This was the fundamental strategy in which countries try to export its way out of poverty. Export markets help strengthen domestic production and improve people's lives and increase foreign exchange income to provide stability and growth for the economy.
However, in the long term, if the economies focus only on exports, it will be unstable and unsustainable since it will be influenced by fluctuations in the World Economy, and the variability of economic conditions of the most important markets of developed countries. These variations cannot be predicted and come from all factors of the economy: financial and real estate markets, as well as the macroeconomic policies of developed countries.
Thus in addition to production for export, manufacturers must not forget to develop the domestic markets at the same time. Governments and businesses should also focus on building on increasing people's purchasing power. For example, China and India have similar population, but Chinese citizens have greater purchasing power, especially in mega cities (such as Beijing, Hong Kong, and Shanghai) where the relative cost of living is equivalent to the one in developed countries. This made China's economy becomes more balanced and powerful. The retail budget of Chinese citizens is increasing with speed and stability of up to 15% growth per year. By 2020, China will replace USA as the world's largest market.
In terms of consumer spending power, Vietnam is regarded on a similar basis as India. In Vietnam there are still a number of areas where there is no consumer demand for shopping, even for the most basic needs. India is a country with huge population, sizable but diverse market. There are also marked differences in culture and religion and such diverse needs must be catered to. India and Vietnam must both promote economic development while at the same time; policies are attuned to encourage domestic consumption and production strategies.
And thirdly in terms of Infrastructure Development, we all know that infrastructure plays a key role in any economic development activity (including economic cooperation). Therefore, we need to pay special attention to the development of infrastructure especially power, water treatment plants, roads and tollways, ports, and airports, etc. These are assets that must be in place for any economy wanting to grow and improve the lives of their citizens which is fundamental. Based on these sectors that I am personally involved in, infrastructure development must be the first and foremost areas that should be prioritized for development. Improved infrastructure provides the capacity for India and ASEAN to make efficient and prompt progress in economic cooperation. For this purpose, we must have the participation of not only government and SOEs, but also private enterprises, and governments of partner countries.
Thank you for the opportunity to be part of this panel!