The People's Military Newspaper writes about Tan Tao University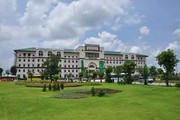 While national leaders are still debating and experimenting with building the first truly international quality university in Vietnam, accomplished business person and Chairwoman of Tan Tao Group, Ms. Dang Thi Hoang Yen, is pushing hard to create the first such university in Long An – named Tan Tao University (TTU). On the occasion of Teacher's Day, People's Military News has had a chance to visit TTU and learn of many unique, promising qualities that position TTU to be an agent of change for higher education in Vietnam.
First Class: Green, Clean campus
On the occasion of Teacher's Day, we visited Tan Tao University. Our visit coincided with an evaluation visit by 10 prominent professors from the US – the group came to TTU to inspect and evaluate the school's progress toward getting ready for commencement in the Fall of 2011.
Tan Tao University stands out with many distinctive qualities. Lecture halls are surrounded by a carpet of green grass and colorful flower beds. Campus roads are professionally paved and lined by many massive trees – creating a relaxing and romantic atmosphere. Athletic facilities include a world class soccer pitch, a three court tennis arena, and an open 30 hectares lake for water activities. Not far from the tennis arena is the Service and Entertainment area where many beautiful buildings stand projecting their images over the Vam Co River. Shockingly "green-clean-beautiful" are the words that the US professors used to describe Tan Tao University campus. In an age where expensive land leads to cramped living/learning space plaguing most universities today, TTU offers a truly unique opportunity. Tan Tao University was built inside Tan Duc E-City in Long An Provice. Tan Duc E-City is amongst the most advanced, modern, green and clean residential developments in Vietnam. Included in Tan Duc E-City is Knowledge City – which includes the university, financial center, business, service and entertainment areas. Not long ago on an exploratory trip, a group of Japanese businessmen could not help but comment that Tan Duc E-City is perhaps the cleanest and most beautiful development in Vietnam.
Tan Tao University Campus - a "green campus" in the middle of a "green city"
Explaining why she chose to locate Tan Tao University in the middle of a "5 stars" residential development, Mme. Dang Thi Hoang Yen, Chairwoman of Tan Tao Group said: "When we built Tan Duc Industrial Park, Tan Duc E-City, and Tan Tao University, we included many parks, sport facilities, open grass areas, trees, flower beds, etc… Other developers often overlook these features in order to maximize their land use to increase profit. For myself, I've always wanted my projects to help make Vietnam a more beautiful country as well as bring more happiness to people who live in or near my development projects". "For a long time, I've dreamed of building a "Science City" next to the Vam Co River. This is the river where many of our soldiers have fallen. Now I want to turn it into a cradle for future national talents."
"5 stars" standards - from lecture hall to dormitory
The main lobby area of Tan Tao University is very spacious creating a feeling of flying free for visitors to TTU. The most eye-catching feature is perhaps the expansive dome over the lobby painted with the blue sky and dynamic clouds as if to express a desire to attain the furthest reaches of the knowledge world. Climbing the massive stairways to the upper levels of the Administration Building, one won't find high tech machinery but rather a unique museum space featuring 1000 pieces of sculpture by renowned pottery artist Tran Do. This collection features unieque and valuable pieces of pottery representing the 1000 years of Vietnam history.
Lecture and class rooms are abundant with many varieties. Each room features not only a board, desks, and lecture stage, but also high tech instructional technologies such as a projector, screen, and a smart board. In addition to class and lecture spaces, special purpose rooms such as labs, auditoriums, and a large student activity space (complete with a stage) are also available.
Dormitory – when we visited the student dormitory, workers were busy arranging the model units. Much to our surprise, before us is no longer the all too familiar scene of cramming many students into a small, tight space; but instead, each dorm room is only occupied by 4 students. The dorm rooms are all equipped with space and furniture for sleeping and studying. Each room has access to a private, clean, and modern bathroom.
After hours, students can find themselves enjoying extracurricular activities such as soccer, volleyball, cinema, or a live performance at the many facilities available throughout the residential development.
The one-of-a-kind "Professor Village"
Not far from the lecture halls, by the tennis courts, and hidden in the flower gardens, we find the luxury villas. The model villa we visited is a three-story western-style building complete with the white picket fence and a colorful rose garden. The backyard features a peaceful fountain, banana plants, bamboo stalks, and a variety of vegetation that gives you a distinctive feeling of being in the countryside. The owner of this residence can comfortably relax and lose himself in another world after a long day hard at work. Is this a villa designed for the upper class? Or for the successful foreign investors? Perhaps it is reserved for an executive who has stock in the Tan Duc development project? No, these villas are for University Deans and Associate Professors. Full professors and scientists are provided with even better accommodations. We were mildly shocked to hear Mr. Nguyen Tuan Minh – General Director of Tan Duc JSC (a member of Tan Tao Group) – explain the accommodations reserved for TTU faculty. We can all recall that the Vietnamese government has recently provided Professor Ngo Bao Chau (first Vietnamese Fields Medal winner) a residence in Hanoi worth 12 Billion VND. These comparable villas that Tan Tao Group is giving to the future professors and scientists at TTU prove that Tan Tao Group does not spare any expense in attracting the best talents to Tan Tao University.
Along with the villas for deans, chairs, and department heads are many luxury condos, townhouses, and apartments reserved for faculty lecturers according to their qualifications (e.g., PhDs, MS, MA, BA, etc…).
In addition to offering a competitive salary, rewarding the faculty with a modern living and working environment is, according to Mme. Dang Thi Hoang Yen, the main and innovative attraction of Tan Tao University for potential faculty recruits. This "rewarding talent" idea, coupled with the development of Tan Duc E-City into a model residential development will create a new "Singapore" right next to Ho Chi Minh City. This development area will be a large hub attracting many investments into infrastructure, education, science, business, and finance.
The observations we made above convey but only the "surface" of this university project; but it is quite clear that Tan Tao University's founder is determined to build a truly advanced, innovative, and high quality university on a 103 hectares campus with the plan to recruit up to 3000 students per year. We truly hope that the vision for Tan Tao University will be soon realized.
Article and photo by: Đức Toàn - Nguyễn Minh