The Prime Minister agrees to act as guarantee for the Kien Luong -1 thermal power project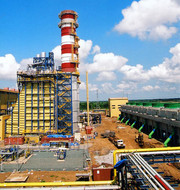 On July 27, Government Office made an official dispatch No. 5040/VPCP-KTTH writing that the Prime Minister agreed to lay down the Government's guarantees as a policy for the Kien Luong - 1 thermal power project – Kien Luong thermal power center.
Accordingly, the Prime Minister requested: Investor (Ita Group) must report financial plans of the project to the Ministry of Finance for the assessment as stipulated in Decision No. 272/2006/QD- TTg and submit it to the Prime Minister for reviewing and decision to act as guarantee.
Kien Luong Thermal Power Center is expected to start in the quarter IV of 2009 and put the squad No. 1 into operation in the quarter IV of 2013, No. 2 in the quarter II of 2014. This is the largest thermal power project in Vietnam with the capacity of 4.400MW, total estimated investment capital of USD 6.7 billion invested by Ita Group - a domestic enterprise as investors. After putting into operation, it will play a very important role in resolving the electricity needs of the industrial urban in Kien Giang province in particular and the whole country in general.
ItaExpress