'Untiring birds' - The Charitable Work of the Tan Tao Corporation is Ceaseless.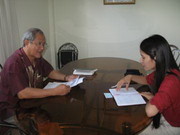 Requests for charitable help our ceasless and so too is our work to meet these demands.
"When I was eight years old smallpox spread to my part of the country. Lacking enough money to pay for treatment, my parents were left blind. Throughout my childhood I lived with my parents. When I was fifteen years old my father died. Five years later, when I was twenty, my mother died. Since then I have lived alone with the support of my neighbors and my brother's children. Often homeless I was forced to rely on the charity of those around me. In 2005, after storm number eight, I fell seriously ill. My children were too poor to cure me. My sole monthly income was a 65000 local dong–grant."
The above extract is taken from a request for a grant from the "ITA Foundation to Beat Illness". The application was made by Le Thi Day, born in 1937, who is currently living in My Hoa hamlet, Hoa Thang village, Phu Hoa district, Binh Duong province. This is only one among a mountain of requests asking for a grant from the Tan Tao Corporation. Looking into each file, every assessor is given a brief glimpse of the illness and poverty created by war and poverty. The ITA Foundation believe that these experiences need to be shared in order to raise awareness of the depth of suffering.
A famous Vietnamese folk-song teaches us that although the Pumpkin may be an unfamiliar vegetable we still offer it the support of a trellis to help it grow to it's full potential. This observation is still pertinent in society today. Although the division between rich and poor is still a grave problem within Vietnam, as it is within all developing countries, we can use the tradition of 'mutual support' to help the poor out of their plight. Tan Tao Corporation is continuing to lead the way in setting up charity funds to support the poor. "ITA Foundation to Beat Illness" has been formed with this mission at its heart.
With the files asking for grants were received, we realized that the poor in our country are in need of help. From requests received from the North, the Middle and the South of the country, the fund is seen as an hitherto unimagined opportunity to relieve the difficulties caused by poverty. Everyday, the fund's staff are responsible for selecting and reviewing requests. The office is constantly a flurry of activity luck a flock of birds in the dusk sky.
There are files that are heart-breaking to read. Often traumatic to read we cannot help but be deeply moved by this stories, and are usually unable to prevent ourselves shedding a tear. For example, Mrs Ly Ngoc Giao, born in 1978, now lives in 8 hamlet, Long Nguyen village, Ben Cat district, Binh Duong province and has three disable children. She used to be a worker at Pham Van Tien Farm. At present, because of health, she has to stay at home and look after her children. Nguyen Ly Huu Tien, born in 1999, is still be able to move but his body has shrunken. The other two children are Nguyen Ly Huu Tho born, in 1996, and Nguyen Quoc Hung born, in 1989. At first, Hung's body was quite normal but when he was about 6 years old, his legs became weaker and weaker and began to experience difficulty with movements. Now neither Hung nor Tho are able to move.
Another is the file of Mrs Nguyen Thi Cuc who appeared in an article in The Sunday Woman entitled 'Don't forget those at the bottom'. We felt quite so sorry for her when inspecting her file. One of the requirements of the fund is that a request must include a medical diagnosis given by a doctor and a hospital fee invoice. But because those most in need often don't have enough money to pay medical fees, these important documents are often missing from requests. This was the case with Mrs. Nguyen Thi Cuc. In order to come to her home at Cay Bang village, Thu Thiem, the author of 'Don't; forget those left at the bottom', had to ask a person for directions. Her rented house is nearby a seriously polluted mass in a lane. Now they live in 6 hamlet, Dong Thanh village, Hoc Mon district, Ho Chi Minh City. But with the mutual support adding the file of Mrs Cuc'husband, Mr Huynh Phuoc Phuc, we can not work machanically and rigidly.
There are many photographs sent to ITA Foundations illustrating poverty and hardship, especially "ITA Foundation to Beat Illness". In large cities such as Ho Chi Minh City and Ha Noi Capital, we know that those in need are eagerly anticipating our responses. This motivates us to inspect patiently and respond early.
However, sometimes our work does not receive sympathy from people. Sometimes we are asked, "What benefit does Tan Tao Corporation get?" Generally our work goes un-publicized but it is worth recognizing that the Tan Tao Corporation has contributed an approximate 4 million dollars to those in need over the past ten years. Those suffering from illness and poverty really need the support of society. Indeed, if measurable improvements made to people's lives is the first object, considering the amount of money given over 10 recent years, Tan Tao Corporation must have made a great improvement to many lives.
Tan Tao Corporation have made clear their slogan: 'Everywhere Tan Tao come in, the local people will have a new chance, have more work, have more hospitals, have more schools and they will be rescued from the burden of poverty they have carried on their shoulders for many years'.
New files come to us every day and we endeavor to meet everybody's needs. Our fund's work is "growing, spreading and developing everywhere Vietnam's people are in need". With "ITA Foundation to Beat Illness" we always " think of all people". We will continue to work untiringly for the poor.
By: Ngo Quang Vinh
Translator: Mai Thao