HIGHLIGHTS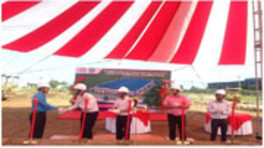 On December 12, 2017, the groundbreaking ceremony of Leebra Vina factory in production of fashion goods and accessories with a total investment of US$ 4 million at the Lot 17A, Road No.1, Tan Duc Industrial E.City Complex in Duc Hoa District, Long An Province
ITA Securities

Đó là khẳng định của ông Đặng Thành Tâm - Chủ tịch HĐQT Tổng CTCP phát triển đô thị Kinh Bắc (HOSE: KBC), cựu Tổng giám đốc ITA, người chủ trì cuộc họp ĐHCĐ của ITA.

ITA Foundations

In October each year, the Hoa Trang Nguyen Award seeks and honors new outstanding students at the Awards Ceremony. This year, the Award honors 287 outstanding awardees who won medals at the international academic competitions, won the first place in the national competition, and had the highest scores at the national High School Graduation Examination.

Tan Tao Today

On December 12, 2017, the groundbreaking ceremony of Leebra Vina factory in production of fashion goods and accessories with a total investment of US$ 4 million at the Lot 17A, Road No.1, Tan Duc Industrial E.City Complex in Duc Hoa District, Long An Province

ITA Careers

Tan Tao is a newly established, not-for-profit private university, located west of Ho Chi Minh City, Vietnam. TTU is committed to higher education following the Western model, conducted at a high international standard. Teaching of all subjects is in English. The university will provide full scholarships to talented Vietnamese students from all provinces and backgrounds upon competitive admission – regardless of means. These scholarships – which are renewable subject to performance - cover 100% tuition, food, and accommodation.