E.City Tan Tao: ITA's Habitat for Talent and Success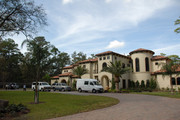 Inspiring natural scenery, modern architectural beauty, traffic circles lined with vibrant and colorful plants and beds of flowers all create a romantic residential environment that is a little like living in a dreamy, picturesque drawing.
Tan Tao E.City has been aesthetically and scientifically planned with open space villas featuring private security gates and a large, spacious, poetic park view. Put together, this assures owners safety, tranquility and peace of mind. Tan Tao E.City Urban Zone planners have harmoniously placed villas in interlaced rows that also strategically connects them to infrastructural utilities.
Each villa is partitioned into various zones and functional rooms designed to create large and open spaces. Living rooms open on 3 sides to the rest of the villa; bedroom, dining room, working room, entertaining room, garage, balconies, etc. are all in perfect arrangement. The outdoor space of the villa consists of large family park area and swimming pool.
In continuity with the overall development vision, modern offices and high-end apartment buildings dynamically rise in harmony with urban facilities and internal parks. Each apartment block includes its own basement parking lot, commercial areas, offices and services on the ground floor, and upper floors reserved for residential apartments. Each apartment has an enlightened design of spacious and efficient rooms, fully functional windows and private views.
Total project area includes 144.6 ha divide into:
· E.City: 35.72 ha
· Commercial-Service-Office-Hotel-Apartment Complex: 20.44 ha.
· Commercial-Service-Community: 8.56 ha.
· School: 2.94 ha
· Square: 3.97 ha
· Parking lot: 1.26 ha
· Entertainment & relaxation park reserved for exhibition & fair: 14.2 ha
· Segregated green plant zone: 10.82 ha.
The remaining area is for traffic, green plants, water surface, main technical projects.
Villas, offices and apartments will all be fully equipped with modern facilities, Information Technology infrastructure with real-time online services, data transmission systems, high-speed internet access and e-business solutions toward enhancing users' efficiency and work value.
High-end villas, apartments and offices are divided by rows of trees intermingling with thousands of colorful flowers. The development is the result of a delicate marriage of modern and traditional: strong but simple contours of innovative architecture softened with the subtle, pliant sketches of traditional architecture, yielding a picture of contrast and harmony. The homes and offices make an ideal stopover for distinguished guests of Tan Tao E.City residents.