Vietnamese Diplomats Visit Tan Duc Investment Corporation.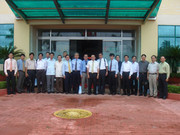 Afternoon of 9 August, 2007. Thirty Vietnamese Foreign Affairs Ministry employees (term 2007-2010) visit the Tan Duc Investment Corporation.
Mr.Thai Van Men, General Director and Mr. Nguyen Huu Dung, Director Personnel Administrative of Tan Duc Investment Corporation met the delegation from the Foreign Affairs Ministry together with staff. The delegation was accompanied by the Ministry of Authority Politics and Organization Department. At the meeting, Mr.Thai Van Men gave a general introduction to the company's activities and their vision for future development. He also outlined the company's policy on attracting investment in the Industrial block. At present there are 66 investors in TanDuc Industrial. Of these fifty-four are domestic and twelve foreign.
Following the meeting with Mr. Thai Van Men, Mr. Vu Chi Cong, the Vietnamese Ambassador to Cuba, expressed his pleasure at having the opportunity to visit Tan Duc Industrial. The Ambassador was also outspoken in his appreciation of the potential investment this would bring to LongAn Province.
From July 30th to August 18th 2007 the delegation will visit provinces from Hue Quang Tri. These will include Quang Nam, Da Nang, Ho Chi Minh City, Binh Duong, Long An, Hai Duong, Hai Phong and Quang Ninh.
Edirtor ItaExpress Group
Translator: Ngoc Tran