Vina Universal Paradise Will Bring VND 1.2 Billion in Revenue to State Budget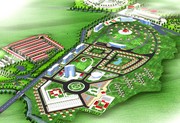 The Vina Universal Paradise Studio-Service-Commercial Area project will cover a 60-hectare area of Son Tinh district in the Quang Ngai province. The investment and construction of the project will be undertaken by Vina Studio-Tourist-Investment Joint Stock Company of Tan Tao Group.
At a meeting of Quang Ngai provincial leaders the morning of December 11, 2007, Mr. Nguyen Xuan Hue, Head of Quang Ngai provincial People's Committee, approved the construction of the project of Vina Studio-Tourist Area Investment Joint Stock Company, a subsidiary of Tan Tao Group. The project's culmination will provide a relaxation service center and high-end recreation area to tourists, specialists and local residents. It will create a prominent architectural site at the City entrance and stand as a symbol of the studio creation at the beginning phase.
Furthermore, completion of the project will enhance the beauty of the City and give it a strong landmark. The Project will also draw more investments to Quang Ngai province to encourage more conversion of unproductive agricultural land into active centers of commerce. In particular, it will bring over VND 1.2 billion to the state budget through the Business Income Tax, Added Value Tax and the land utilization fees.
A rendering of Vina Universal Paradise Studio-Service-Commercial Area