Tan Tao Group's Annual Report 2013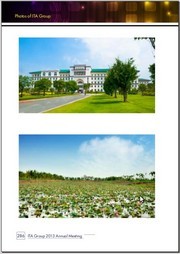 In 2012, the country faced severe turbulence concerning economic recession and macroeconomic policies imposed by vested interest groups. Vietnamese businesses have confronted unprecedented challenges due to the market cornering and constantly faced the takeover campaigns by interest groups.
ITA not suffering from brand name loss or takeover demonstrates the efficient leadership and management capability of the entire the Board of Management, the Chairwoman personally and the Directors. It is the first most respectful rewarding achievement in 2012.