Report on the Success of 20-million Share Issuance and Additional Share Listing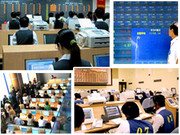 As of December 28, 2007, the Tan Tao Group successfully completed the issuance of 20 million shares as well as an additional share listing.
The share issuance included 18,552,200 shares with 2 to 5 year shareholding conditions, accounting for 92.7% of this issuance phase. Among notable shareholders were AIC Fund, Infrastructure Fund of Vina Capital, JP Morgan Chase Bank, JP Morgan AG, and UGI.
The total value of this issuance phase and additional listing is VND 1,787,591,780,000. As a result, up to December 28th 2007, Tan Tao Group enjoys a total capital surplus of nearly VND 3,000 billion.
Tan Tao Investment-Industry Company has submitted an application for the additional share listing of 20 million shares in a new issuance phase starting on January 18, 2008.
Announcement Board