ITA - Annual shareholders' Meeting 2018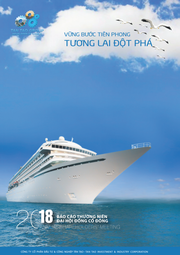 In 2017, the socio-economic situation of Vietnam showed positive changes in the context of the recovery of the world economy, with major economies such as the United States, China, Japan and the European Union achieving positive growth. Investment and global trade activites have significantly improved and have crated a good impact on domestic production and investment.
Benefiting from the general development, with the motto "Investors' development is the growth of our Industrial Parks", by the end of December 2017, Tan Tao Industrial Park has attracted 270 investors, of which, 244 companies have been put into operation, including 38 foreign investors. Total domestic registered capital was VND 16,645 billion and total foreign registered capital was USD 205.8 million, creating jobs for more than 25,000 employees. Tan Duc Industrial Park has attracted 141 investors with investment registration certificates, of which 63 are foreign companies. Total number of 108 companies have been put into production and operation with a total investment capital of VND 4,002.64 billion for domestic investment and USD 219 million for foreign investment until 31/12/2017. Itaco's subsidiaries have been operated more effectively, Taserco has supplied 1,120,000 industrial meals and more than 9,000 patients visited Tan Tao Hospital in 2017.