General Shareholders' Meeting 2012: ITA rides the waves to firmly establish success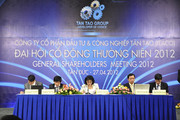 On April 27, 2012, the Annual General Shareholders' Meeting was held at Tan Tao University, Tan Tao University Avenue, Tan Duc Ecity, Duc Hoa District, Long An Province. The General Shareholders' Meeting was successfully held with the attendance of 925 shareholders, and proxies representing 513 shareholders. The General Meeting has approved the important resolutions for the Group's business strategies in 2012.
In 2011, the Group was confronted with a lot of challenges in the business operations. The Board of Management has issued timely policies and supported the Board of Directors to manage business activities suitable to the market volatility. Accordingly, the Group divested itself of several projects, and has focused on deploying the debt collection and has paid a loan of 950 billion dong. Those timely measures have lessened the burden of debt, helped saving on financial costs as well as maintaining stable operations of the Company in the actual situation of credit crunch.
Besides the economic expansion, the Group has constantly engaged in various social activities. The Group and its subsidiaries have always played prominent roles in promoting charity activities, supporting poor people, favor-return activities, building hospitals and schools. With the effective result of business performance, in 2011, ITA Group ranked the 35th among Vietnam's top 200 private companies with the highest corporate income tax contribution and the 129th among Vietnam's top 1000 companies.
According to the study of Vietnam's 676 companies in 22 industries conducted by the Profiles International Vietnam, a provider of efficient management tools and human resources, Tan Tao Group has been assessed as one of the productive companies in Vietnam.
A year went by with ups and downs and challenges, over 60% of the listed companies suffered loss. Tan Tao Group, despite not meeting the planned targets, has still made profits. Ms. Dang Thi Hoang Yen, as the responsible before shareholders and investors, has poured in all her wealth and her own shares, a value of 808 billion dong, to support the company with the right of conversion into shares. Therefore, the Group has overcome the challenges and has maintained a debt-to-total asset ratio of 25% as planned throughout the past 17 years of operations.
The General Meeting successfully closed with the high consent of the majority of shareholders on approval of the resolutions and election of the Board of Management, specifically as follows:
The election result of members of the Board of Management:
1. Ms. Dang Thi Hoang Yen (478,486,514 voting rights)
2. Mr. Nguyen Van Tau (190,516,124 voting rights)
3. Mr. Nguyen Thanh Phong (190,643,279 voting rights)
4. Mr. Nguyen Tuan Minh (140,639,749 voting rights)
5. Mr. Tran Dinh Hung (190,640,834 voting rights)
The election result of the Supervisory Board
1. Mr. Do Tuan Cuong (276,660,153 voting rights)
2. Mr. Nguyen Trong Dung (236,473,478 voting rights)
3. Ms. Le Thi Phuong Chi (196,536,247 voting rights)
Resolution of Annualgeneral Shareholders meeting 2012 of Tan Tao investment & Industry corporation
Minutes ofthe Annual general Shareholders meeting 2012 Tan Tao Investment & Industry corporation