Coming Together to Develop ITACO into a Strong Economic Group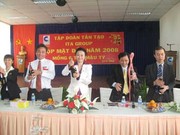 In the exhilarating atmosphere of the first days of the New Lunar Year, on the morning of 12 February 2008 (the 6th day of Lunar New Year), ITACO's staff had a New Year meeting full of hope and drive for the year ahead
The Chairwoman of the Management Board of the Group Mrs. Dang Thi Hoang Yen made an opening speech at the meeting. She gave her best wishes to the staff of ITACO and hoped that in the upcoming year, all the workers would together to make their best efforts in developing ITACO into a strong economic Group on both the domestic and global scale.
With a champagne toast, President of the Group Mr. Thai Van Men - on behalf of all the Group 's staff and the Director Board - promised to enact the correct policies which would allow ITACO to develop into a strong global economic Group in the following year.
The staff's applause signified their sentiments and commitment to the continued effort to build ITACO.
The Chairwoman of the Management Board: "Together our efforts to develop ITACO
into a strong economic group on the domestic and world scale will succeed."
The Chairwoman of the Management Board giving presents to staff for good fortune in the New Year
Champagne for a lucky New Year.
The Group 's leaders raise glasses with ItaExpress for a successful New Year.