ITA Group Capital sets up electrical power company in Lai Chau Province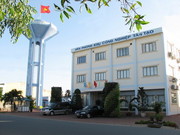 ITA GROUP have contributed 50% of the charter capital to set up an electrical power joint-stock company in Lai Chau Province. NORTH-WEST POWER COMPANY, JSC, will benefit from an investment of VND 500.000.000.000 (five hundred billion dollars).
The head office: No 18 - Wrad Doan Ket - Lai Chau District - Lai Chau Province.
The main activities of the power company will include:
· Measuring and testing electricity.
· Constructing and installing electrical systems, electrical transportation, electrical transportation path and a trasformer station up to 100KV.
· Producing and trading electrical material and equipment.
· Producing, transporting and trading electricity.
· Other specialized constructions, such as industrial construction, irrigation, hydro electricity.
· Trading material, equipments serving civil and indusrial construction.
· Building projects: port, space, storage, wharf (waterway, seaway and airway).
The company have been selected to manage the construction of a Hydroelectricity Plant, with a capacity of 70MW, in Lai Chau Privince. At present the plans for the project have been finalized and it is expected that construction will begin in October, 2007. The plant will be finished by, and come into operation on, Nation Day, 2 September, 2009.
By: ItaExpress
Translator: Ngoc Tran