The Congress President of the people republic of Cuba visiting Tan Tao Industrial Park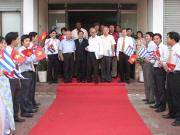 In the afternoon of June 13th 2007, TanTao Industrial Park Coporation had the honor to welcome the congress deligation of the people republic of Cuba to TanTao Industrial Park. The deligation leader was Mr. RICARDO ALARCON DE QUESADA, the member of political bureau, the congress president of Cuba.
At the meeting, Mr. Thai Van Men, the General Director of TanTao Industrial Park Coporation, introduced generally the process of building and developing and potential of TanTao Group. Mr. DE QUESADA appreciated TanTao's achievements and on behalf of people of the people republic of Cuba, gave their thankful regards to Mr. Men and recorded his impression in their anniversary gold book when receiving USD 100,000 from TanTao Group.
On this occasion, he also visited RODA international company, specializing in producing high-quality interior wooden furniture for export of Singapore in TanTao Industrial park and one of very sucessful companies since investing in TanTao Industrial Park.
The visit ended warmly at 16:20 of the same day.
By: Lai Thu Giang
Translator: Ngoc Tran