Saigon - street corner where downtime drift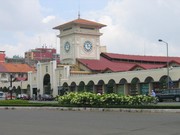 "The sun is setting and an excellent day. But I still like to behold one of motorcycles crossing a road, wave to salutation ones views me. I think about the lifecycle of a bat, the earth's shape stitches on palm-leaf conical hats of Vietnamese".
Image correspondent Joel Carillet loves Sai Gon city and people at once he came here, neither only for this city brings his lens extremely beautiful pictures.
This is a summarized article on "The Christian Science Monitor", written down Joel's feeling about this city.
"I have never put leg to a where I fast love human being there. Whereas with so many Americans, Viet Nam phrases always synonymic with "War", with me - fewest that is after this visit Viet Nam evoked among an another thing: a country that glints, laughter, a best wishes that melted and came in my mind, made me amazed with wonder how to make strangers could made me so happy.
In the first morning, I went some Sai Gon's beautiful street corner for taking photograpp. I strive for taking a photograph of Nha Tho Duc Ba's shadow reflects with small stagnant rain – water puddle of the last night.
I reservedly came a hair shop in order to take photograph working hairer. I took a family that were eating fast food, A women selt bread, actor Brad Pitt's portrait hang in the wall of a fruit and vegetables.
Then, I came at a nail shop and took experts who were making up toenail, fingernail. Highly inspired, I jumped a bus go to Cho Lon, where is considered as "Chinatown" of Sai Gon. That is a City's corner that I never saw. Here, there is not a traveller's shadow.
I was glad such as Columbus discovered America in the first time, when I discovered a row of rice store. That is a street which was heaped with rice sack such evidence that Viet Nam is a big exporting rice country of the world. These woman that sall, had palm-leaf hat, were seatting and picked hoggin and paddy diligently. Here brimming over rice, laughes and people like take photograph.
I discovered Cho Lon's another corners. I passed Cho Lon, talked with a men was having a rest on a hammock, bough a boiled corncobs in road side.
Later, I saw a bell – tower of a church in the distance and followed this toward.
Opening the door, it made sounding creaky, I stray into an unfrequented solemn. To be silence to such can broach it. Came here, they as escape from plenty, noisiness of streets and finding have a rest rare refreshment moments.
I sat in small church, in a moment, short space of time as stoppage, long barely enough let me know actually it still is passing. Time passes slowly, but with power can not resist just like tide in rising, is ceaselessly following. In immediately I sat at there, I felt its power.
Source: Dantri
Translator: Ngoc Tran