ABN – AMRO to become ITA Security's partner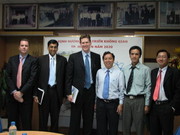 On the 11 July 2007, Mr. William Kostoff, General Director of global capital regulation for ABN – AMRO Bank, one of the largest bank in Ha Lan, and Mr. Nguyen Cong Thanh, Deputy of Account Services came to Tan Tao Industrial Park to look for potential investment opportunities.
They were accompanied by Mr. Derek K.Sheele, General Director of Investment, and Mr. Ashish Gupta, Chief of investment regulation of Legatm Capital Fund.
Mr. Thai Van Men, General Director of ITA GROUP introduced the men to the economic opportunities of investing in Tan Tao as well as in ITA Group's other national projects. Mr. William Kostoff recognized these opportunities and expressed his wish for ABN – AMRO Bank to become an ITA security's partner.
By: Thu Giang
Translator: Ngoc Tran