Construction start-up of Hung Vuong processing factory in Tan Tao IP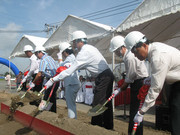 On July 19, 2008, the Hung Vuong Export Food Processing Company held the ground breaking ceremony of a new factory situated in Lot 21-23, Road N0 8, Tan Tao Industrial Park with an area of 18,023 square meters and VND 123,613 million construction cost in total.
The ceremony was attended by Mr. Nguyen Phuoc Trung, Vice-Director and Mr. Pham Van The, Chief Inspector of Department of Agriculture & Rural Development , Mr. Duong Ngoc Minh, General Director of Hung Vuong joint stock company, Mr. Nguyen Trong Dung, Vice-Head of human resources & administration department of Tan Tao Group and all employees of the Hung Vuong company.
All construction items of the new factory have been designed in accordance with the Vietnam construction codes and current industry standards. In particular, upon completed, the factory will absolutely be able to meet with the HACCP and ISO 9002 standards so that its products will be exported to Europe and North America. The factory has 3 major products comprising frozen products with 4,599 tons/ year capacity, 1500 tons /year dry products, 4,000 tons/year cold storage, 90-100,000 tons/ year fish products.
The first one of the 23 contract packages in the entire project will be carried out by the Nhat Minh Company Ltd. and the Sai Gon construction & trade development company Ltd. It is expected that the factory will be completed within 18 months and then employ between 600 and 900 employees.
Mr. Nguyen Phuoc Trung, Vice-Head of Department of Agriculture & Rural
Development speaks at the Ceremony.
Viet Thang (Translated by)