Inaugurating Ceremory of Research and Export Sweet – Selling Rice biggest company in Vietnam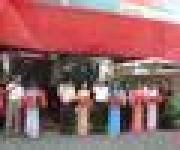 ItaExpress – On the 9th of August 2007 at Vinh Hung Town, Vinh Hung District, Long An Province, ITA – RICE Research and Export Sweet – Smelling Rice Corporation of ITA GROUP was inaugurated officially after a long time of planning.
Attending to this inauguration, there were Mr. Le Thanh Tam – Former of Long An provincial Party Committee Secretary, Mr. Duong Quoc Xuan – President of Long An Province, local leaders of Vinh Hung and Tan Hung District, leader of ITA GROUP and media. Mrs. Nguyen Nhu Y – General Director of ITA – RICE expressed her gratitude to local leaders's support for her project during the past time. She hoped that with the combined supports of the authorities, Long An people and premier agricultural experts, ITA – RICE will success as expected by the leaders and Long An people's.
ITA-RICE was established according to Enterprise Registration Certify No 5003000188 of Investment Plan Service of Long An, which was issued on March 21st 2007. Charter capital is VND 1,000 billion.
ITA – RICE has over 10,000 ha for producing sweet – smelling rice for exporting and 200 ha for ICD – Manufactory.
This is the leading project in Vietnam, which has the biggest scale, applies GAP process and HACCP standard form producing – maintaining – processing – building trade name ITA- RICE – distributing high quality products for the consumer.
Producing in Vietnam, a rice with high quality, raises the vietnamese valuable rice on international market, raises personal life enhancement of Dong Thap Muoi region in particular and in Vietnam generally.
This project set up will resolve thousands of worker's employment, who from farmers became agricultural labourers.
This is the dream of the vietnamese scientists and the expectation of the Authorities at all levels.
ITA GROUP is supported by Long An Authorities to make this dream become true and carry out this project by ITA – RICE Corporation.
By: Thu Giang
Translator: Ngoc Tran