Do Trung Ta – The Minister of Post and Telecom ministry welcome ITA Group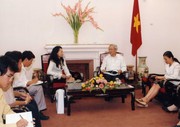 On the afternoon on 14 May, 2007, the Minister of the Post And Telecom Ministry met a delegation from TanTao, led by Ms. Dang Thi Hoang Yen, the president of the Board of Management.
On behalf of the Board of Management, Ms. Dang Thi Hoang Yen reported to the Minister the current development projects for Long An Province. These included the planned development of a moderm city by 2015 and 11 other projects in Mekong E.city, Sai Gon.
E.city zones will be powered by Informatic Technology, ADSL internet services, round-the-clock security systems, Telecom services, TV Caple service designed by renowned American experts.
On behalf of the leader of the Post and Telecom Ministry, the Minister, Do Trung Ta, appreciated ITACO and the ideas of investors and businesses. He also recommended investors considered choosing profitable business partners in order to achieve the final target of supplying customers with high-quality products in accordance with Vietnamese Laws and international standards in the field of globalisation of Information Technology. Ta also hoped that the projects would be successful and the Vietnamese enterprises should make efforts to develop this new model of investment in Vietnam in which TanTao Group is the leading business in supplying IT services.
The Minister also requested that TanTao Group continued to develop new projects, as well as maintaining strong government links and working in accordance with Vietnamese laws.
By: TantaocityTranslator: Ngoc Tran