ITA-s sponsorship phase 1 for Lang Son teachers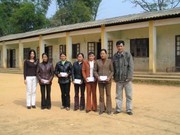 With the aim of relieving the teachers of difficulties, encouraging them in maintaining their educational dedication in extremely poor areas, ITA-Foundations (Tan Tao Group) made a decision on phase 1 to financially support teachers attaining good educational achievements.
The first phase sponsorship was offered to five teachers of Song Giang primary school in Van Quan district which is considered to be one of the poorest areas of Lang Son province. The sponsored teachers, including Ms. Chu Thi Sang, Ms. Hoang Thi Doan, Ms. Trieu Thi Gioi, Ms. Trieu Thi Kien, Ms. Luong Thi Vien, are from ethnic minority people in Lang Son province. Despite difficulties and shortages, they did try hard to overcome and fulfill their educational responsibility. Moreover, and as a result, they have been honored with various titles such as: 'Excellent labor', 'Good-grade labor' for many years'… and awarded many certificates of merit, medals for their educational dedication.
On December 5, 2007, ITA-s' representatives in Hanoi paid a visit to Song Giang primary school to hand over VND 17 million award to the 5 mentioned school teachers.
ITA-s' representatives worked with the school management Board.
Commemorative photograph with sponsored teachers in the school yard.