President calls out for corporate support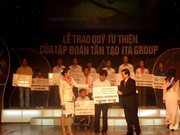 (01-10-2007) HA NOI — State President Nguyen Minh Triet called out to the business community to continue their support for poor and disadvantaged people at the official debut ceremony of the ITA-s charity foundations.
Speaking out at yesterday's ceremony, President Triet said, "We are here today, with mixed emotions, to bear witness to life's different tragedies and destinies.
The country has gone through two wars and faced many difficult times; however, any efforts to help poor people and students have always been welcome and respected."
"These foundations will also help poor students, patients, agent orange victims, heroic mothers and families of invalids and martyrs of wars", said the Chairwoman of the ITA Group, Dang Thi Hoang Yen.
"A torn leaf should be wrapped in a healthy one," Yen said, calling out to the business community for their contribution to support for disadvantaged people.
She added this was the official debut of the ITA Foundations, with a total finance of VND20 billion (US$1.25 million).
The Foundations' founders decided to offer over VND1 billion in scholarships to 1,000 students; each scholarship is worth VND1 million.
"In the fiscal year 2007-2008, the ITA Group has planned to set aside VND15 billion for the ITA-s. It would expand its activities throughout the whole nation without sexual, age or locality discrimination", said Yen. — VNS