A Boy Who Dares to Dream that his Difficulties will be Overcome.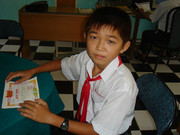 "I have a dream that one day I will be a good doctor and able cure my grandmother and my father. It's not easy at all to be a doctor, but I am determined to work as hard as I can and I will make it come true."
Nguyen Hoang Trong, a pupil of Class 8A1 of Vo Van Tan Secondary School, Duc Hoa town, Long An province, makes a striking first impression. He is a small boy with an intelligent and composed face who stands out from the children in his class. Despite being blind in one eye from birth he is an exceptionally hard worker.
His grandmother's house lies along a country lane which skirts a verdant ricefield. We had to travel carefully, being careful of oxen lying in the dykes, blocking the lane. After a long journey from the school we finally came to a small house with a yellow knoll. This was the destination which ITA's Fund for the Future had been looking for.
Mrs. Nguyen Thi Thuy Trang, Hoang Trong's mother, a encephalitis suffer, has mobility problems as a result of weakened legs. Nonetheless, she must get up as early as 6 am every morning to catch field crabs and snails to bring to the market from midday to dusk. A string of about10 crabs is only worth 10.000 VND, and snails are dirt cheap as well. It is no easy task for a for a healthy person to earn money let alone a women as ill as Mrs. Ngyuyen Thi Thuy Trang. Trong has helped nurse his mother for thirteen years.
The warm reception we receive from the teachers of VoVan Tan school is like a gust of fresh wind dispeling the muggy September afternoon in Long An province.
Mr. Hum, the school principle, said: "Trong is a typical example of a student who overcomes difficulties by studying well. Trong is constantly striving in spite of such bad circumstances to gain the Good Student Title and the first prize of Youth Talent held by our school. We submitted a form to ITA Foundation for Future in the hope of lightening the burden on his small shoulders to go on studying."
Overcoming the difficulties of his home life and disease, Trong has always worked exceptionally hhard to be a good student. He wants to make his mother and grandparents proud and is so full of love. In the letter sent to ITA Foundation for the Future, he wrote: "I have a dream which means the world to me. It is what keeps me motivated to not only attend school but also work as hard as I can. I have a dream that one day I will be a good doctor and able cure my grandmother and my father. It's not easy at all to be a doctor, but I am determined to work as hard as I can and I will make it come true."
I could see in his eyes the burning dream of being a doctor and I felt the force of his desire to cure his mother and the poor. Trong said: "I would be very happy to receive scholarship of ITA Foundation for the Future. I will use it to buy some books and medicine for my mother because recently she has been suffering from epileptic fits. I'll always be a good student." Such an attitude has justly been awarded with his teachers' and everyone's respect and love.
Trong's work-ethic, gentleness and outgoingness is respected and admired by his classmates. At break time his friend surrounded him playing lovely and innocently. His teachers, sympathetic to his disadvantaged background, have helped him with studying and living. As he had no money to buy books, all the books was borrowed from the elder students. One of his eyes is blind whilst the other sometimes causes him pain and becomes bleared. Therefore, he stayees at his uncle's home, which is closer to the school, during the week. At weekends Trong goes home, which is about seven kilometres from the school. Trong helps his grandparents tend to the oxes, sweeping the yard and feeding chickens at weekends and during the summer holiday. Being fatherless from birth, the love of his grandparents, his mother and friends has been a warm loving care and cover for Trong.
I had thought the obstacles which Trong has had to face were more than anybody could bear. I was, therefore, on the verge of tears when I heard some more heart-breaking news from his grandmother. " The doctor told us that due to prenant after-effect, which blinded his first eye at birth, the other eye will also inevitably become blind. I insisted that the doctors cure him but they said that there was nothing they could do.
We returned with a heavy mood, who knew how Trong's life would be when all these difficulties pressed on his shoulder? Trong had proved himself as a full of vitality as ten-mark flower. He had been awarded the good student award for 7 consecutive years and had a burning dream. ITA Foundation for Future was pleased to be with Trong, a studious and energetic 13 year-old boy. We had got a small insight into his difficulties in earning a living and had begun to understand the unfortunate fate of his mother and his grandparents.
By: Ngoc BichTranslator: Huong Thao