The Unveiling Ceremony of Tan Duc E.City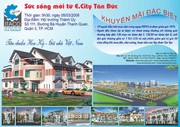 Tan Duc E.City Urban Zone (Duc Hoa district of Long An province) will surprise and fascinate with its original and sophisticated architecture.
At 9:30 on 9 March 2008 at the City Hall at 111 Ba Huyen Thanh Quan Street, District 3, Ho Chi Minh City, Tan Tao Group will be unveiling the new Tan Duc E.City.
At the ceremony, a special sales promotion program will be offered to customers. Customers will be given a number of opportunities to celebrate the unveiling of the new E.City.
As an incentive, the first 10 home purchases on 3 March will be discounted by 10%. In addition, all participating customers will have chance to cast lots to receive attractive prizes (on 30 March, lots will be drawn at 12:00 for phase I and at 15:00 for phase II). Prizes include an LCD television and a discount ticket worth VND 50 million to be used in the purchase of land, factory plants or houses provided by Tan Tao Group.
Contact details:
Address: Lot 16, Road 02, Tan Tao Industrial Park, Binh Tan district, Ho Chi Minh City.
ĐT: (84.8) 7505171/172/173/174 – Fax: (84.8) 7508237
Website: www.ita-ecity.com / www.itaexpress.com.vn