Tan Duc Office Building Project: Price offering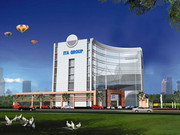 The Project Tan Duc Office Building, planned on Lot 10, Duc Hoa Ha Road, Tan Duc Industrial Park, Duc Hoa district, Long An province has completed the legal procedures and designs. It is now making known prices through the public media.
The Center covers an area of 9.339 m2 in Tan Duc Industrial Park. The Centre's main investor is Tan Duc Investment Joint Stock Company. They have invested a total of an estimated VND 37.590 million. The Center is comprised of 30m-high 8 floors (excluding the commercial and the technical floors) and covers an area of 10.224 m2.
At the present time, Tan Duc Industrial Park is developing rapidly. It is therefore necessary for essential services, such as banks and restaurants to open in order to provide essential services to employees and guests. Upon its successful completion, the project will meet these pressing demands.