VNI purchase 2.5 million ITA shares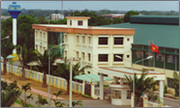 Immediately after officially transacting its shares on London stock market, Vietnam Infrastructure Fund (VNI) – VinaCapital Group – announced that it intended invest money in Tan Tao Industrial Park Corporation (ITACO), with the share code on HCM City Securities Transaction Center, ITA.
VNI purchased 2,5 million ITA shares worth USD 14.06 million at the price of VND 90.000 a share thereby holding about 3.8% of ITACO shares. ITACO owns Tan Tao Industrial Park (443 ha. in HCMC), Tan Tao residential zone (100 ha. in Binh Tan), Tan Duc Industrial Park (535 ha. in Long An) and the Tan Duc residential zone (348 ha.). The company also has been approved to pursue various future projects including; investing and building a freeway with the distant of 70 km from Tan San Nhat Airport to Long An Province Center, building a thermo-electric power plant with capacity of 300 MW and also a water treatment plant supplying for the district and Industrial Parks in Long An province.
Source: Nguoi Lao Dong newspaper
Translator: Tantaocity.com.vn