ITA Group deploys Business Management Solution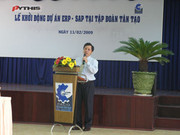 ITA Group works with Pythis, SAP Vietnam, Aagam to deploy Business Management Software Solution SAP – Business All-in-one.
In order to facilitate the effective management of ITA Group 's projects nationwide, standardize business processes, develop solid working relationship between departments and units, through research of implementation and application of software solutions to developing enterprises, ITA Group decides to select Business Management System known as Enterprise Resource Planning Software (ERP) from SAP which is undertaken by Pythis.
The ceremony had the attendance of representatives of SAP Vietnam, Pythis, Aagam, ITA Group's leaders comprising Chairwoman Dang Thi Hoang Yen, ITA Group's President Thai Van Men; Mr. Jimmy Tran, President of Vietnam Land and its employees and staff.
The members of accounting and finance department attend the ceremony.
Accordingly, 4 member groups of the project implemented at ITA Group consists of accounting and finance, real estate business and human resource management, project management and purchase, online training.
SAP All-in-one which is built upon mySAP ERP 2005 is the world's leading Enterprise Resource Planning Software. At present, SAP Business All-in-one is regarded as one of the best business softwares and a core part of SAP CRM.
The solution will help standardize business processes, solidify working relationship between departments and units based on the consistent information system.
Representatives of ITA Group, SAP, Pythis and Aagam raise glasses during the project launching ceremony.
In addition, the system will minimize manual work, saving up time for research, innovation and creativeness and will provide precise, timely and sufficient information to managerial levels to support management, operation and strategy foundation.
The flexibility of the system is also expected to meet required changes and advances in future.
Translator: Viet Thang