Tan Duc Corp. donates VND 300 million to poor families in Long An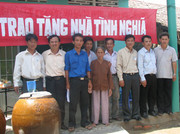 On August 27, the Tan Duc Investment Corporation (an affiliated company of Tan Tao Group) has granted 2 compassion houses to poor families in the Tuyen Binh Tay commune, Vinh Hung district.
With the aim of promoting the tradition "When drinking water, remember its source", the Tan Duc Investment Corporation has donated VND 300 million to build 10 compassion houses for poor families in the Vinh Hung district, Long An province.
Representative of the Tan Duc Investment Corporation receives
the Certificate of Merit from the People's Committee of Vinh Hung district.
Tan Tao Group has supported the construction cost of compassion houses in 7 districts. 10 compassion houses have been given to each of 3 districts including Thanh Hoa, Tan Thanh and Vinh Hung. In the coming time, the Group will continue to offer the houses to Duc Hue, Thu Thua and Tan Hung districts.
The Tuyen Binh Tay commune is a heroic commune of the Vinh Hung district with 10 Vietnamese heroic mothers, 102 families of revolutionary martyr, and 33 wounded soldiers.
Viet Thang (Translated by)