Story of a poor wounded soldier in Tuy An district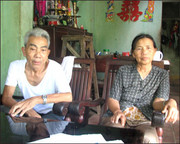 Leaving the house of Mr. Bui Xuan Phong in the My Phu 2 hamlet, Ms. Thuy Diem and Mr. Son took us to the house of Mr. Le Tan Bo, who turned 69 this year.
Both Mr. Bo and his wife, Do Thi Khanh, born in 1944, came out to greet us in a warm and friendly way. A rustic table and set of chairs stood in a corner of their house. On the table lay an old teapot and cups recycled from spice containers. Despite their age, their cleanliness reflected their hosts' way of life. These were our first impressions of this couple of wounded soldiers.
Mr. Bo did not talk much. Neither did his wife. Through our conversation with Thuy Diem and Sơn, who knew of their situation, we learned that they were among the poorest people in the commune.
During our working visit to Tuy An People's Committee, we informed Mr. Nguyen Ngoc Thanh, Head of Office, about the ITA Foundation and asked for a list of those in need of allowances in Tuy An district. Mr. Thanh also emphasized Mr. Bo's case. "Mr. Le Tan Bo is extremely poor. To make matters worse, he and his wife suffer continuously from serious illness," said Thanh. "The local administration highly appreciates Mr. Bo's contributions to the revolution and to many other movements and activities. He currently holds the post of custodian of Le Thanh Phuong's historical site. We hope the ITA Foundation will, together with us, help him out."
Soldier Le Tan Bo and liaison officer Do Thi Khanh joined the army in 1962 and fought for national unification until the final victory. Le Tan Bo was awarded the Resistance Medal, 1st class, Determination Medal, 1st class, Liberation Medal, 3rd class, and a medal for his over 40 years of Party membership.
Unfortunately, though the war has long since ended, its aftermath still remains. Bo ended up a wounded soldier, with injuries almost all over his body. They make his every move, even the most basic, difficult. His wife's health has deteriorated rapidly after being tortured by the enemy. They are living with their youngest son. Their poverty-stricken family relies on monthly allowances of less than 1 million VND. Their sons work in the field, but often suffer losses and poor crops.
His daughter's speech-impaired son (it is unclear whether or not his disability is an aftermath of war) also lives with them. Their situation has gone from bad to worse.
When we asked Mr. Bo about his war wounds, he revealed that he frequently has to go for treatment at the Tuy Hoa Medical Center. However, he often suffers silently since his hospitalization means somebody has to go with him and take care of him. His wife is too weak to accompany him, while his children live far away and work from early in the morning until late at night to earn their living. His treatment also creates another burden on his poor family. When he sent his application for the ITA Foundation's Healing the Wound Fund, he wished to somehow reduce the burden his treatment costs put on his children, so he could follow the course of his treatment to cure his unrelieved illnesses.
We also hope that ITA Foundation will be just one among thousands of "sympathetic hearts" who come to his aid as a way to pay our debt of gratitude for what he has done for his country. It reflects the sympathy and sharing of sorrows and happiness among human beings, for a better world without tears and agony.