ITA–E. City invigorates the real estate market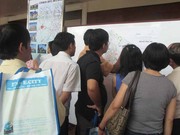 At its introduction the new ITA-E.City programme made a strong impression on potential investors. Ho Chi Minh City Hall was fully packed and thronged with contract signing. The first 30 houses in ITA-E.City system have been sold.
ITA-E.City has attracted a lot of interest and the attention of investors despite the recent stagnation in estates market.
Houses in the Market quarter of E. City Tan Duc belong to the system of E. City – intelligent cities of Tan Tao Group all over the country. ITA – E. City has been designed by planners from the US and Vietnamese architectural engineers. Tan Duc E. City urban zoning has been planned on the modern model of urban lots and housing groups built along artery roads, creating a residential area with modern architectural space with high-quality constructions, fine architecture, safe and durable. The construction includes public-works of education, health, administration, trade, green parks, entertainment-sports zone and infrastructure suitable for a modern urban zone.
Excited investors
Head of Planning Department Truong Khanh Vu
introduces the E. Cities plan throughout the country
Busy specialists
President Thai Van Men (far left)
signs contracts with the first investors.
Moreover, a University, expected to become world-renowned, will be built by Morris Architects Group. The Group, has already designed hundreds of a world-renowned universities. The Principal of the University will be a foreign professor. The University will also conduct training and exchange programs with other educational institutions worldwide.
At this introduction, ITA-E.City will sell houses in the Market quarters with unit areas of 5 x 25m. At subsequent introductions, there will be prebuilt models in different zones made avaliable: Happiness Zone (condominium with garden), Thriving Zone (single private villas), Great Blessing Zone (duplex villas).
Whilst the houses and villas will be built according to pre-designed models, Tan Tao is ready to make them suited to the ideas and to the requests of customers in every detail.
Villas of E. City
Luxurious Parlor