Big investors undertake to hold ITA shares within 2 years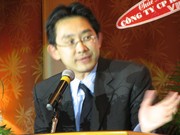 02/07/2007. After receiving the decision of The State Securities Committee on permitting Tan Tao to issue 10 millions shares to strategic shareholders, the purchasing volume registered by Foreign Investment Funds increased threefold.
The Management Board was careful in choosing strategic investors. Eventually the Board chose big investors who had undertaken to hold ITA shares for 2 years. After this issuance, VINA CAP will increasingly become the biggest shareholder of ITACO, now holding nearly 10% of charter capital. The Management Board will support VINA CAP in their union with the Management Board in the coming Shareholders General Meeting.
Up to now, Tan Tao issued successfully 10 millions shares to strategic shareholders and has received over VND 1.000 billion.
By: Thu Giang
Tantaocity.com.vn