ITACO Net Profit of 2007 achieved VND371billions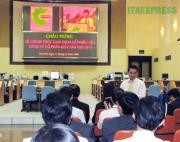 After resounding and glorious successes in 2007, leaders of the Tan Tao Group submitted a document for immediate release to the Department of Listing Management-Ho Chi Minh City Securities Trading Center.
To: Ho Chi Minh City Securities Trading Center – Department of Listing Issuance.
1. Name of listing organization: Tan Tao Investment-Industry Corporation.
2. Trade name: ITACO
3. Listing Code: ITA
4. Content:
Tan Tao Investment - Industry Corporation (ITACO) announces:
By the end of 2007, after the successful issuance of VND 200 billion raising the chartered capital of Tan Tao Investment – Industry Corporation to VND 1000 billion, the Tan Tao Group accomplished in excess of the target of the 2007 plan with a total revenue of VND 989 billion and an after-tax profit of VND 371 billion, 2.5 times as much as the 2006 profit.
Tan Tao Group was honored with the Superstar Business Award 2007 at the Business Roundtable with the Government of Vietnam, held by the British newspaper The Economist and The World and Vietnam Newspaper in Hanoi on January 8 and 9, 2008. The awards were selected by the Board of examiners including 12 ministries and branches of the Vietnam Government, five large magazines and a representative of the United Nations.
The Management Board of Tan Tao Group affirmed the development trend of the Group toward leading the way in Vietnamese infrastructure development, industrial and financial development. On the basis of such an orientation, the Management Board proposed a plan to raise its chartered capital in 2008 up to VND 2000 billion and achieve at least VND 600 billion after-tax profit.
Respectfully,
Tan Tao Investment - Industry Corporation
Vice President
Nguyen Thi Suong