Issuing 20 million shares to strategic shareholders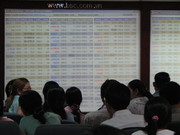 15 December 2007 is the deadline for shareholders and big investors to register to join the strategic shareholders of Tan Tao Group.
As of December 4 2007, 3 big investors have already registered for 30 million shares, of which, Tan Tao has signed a transfer agreement for 10 million shares with the 5-years-holding condition and for the other 20 million, 2 big Investment Funds have registered to purchase at the price of VND 95.000 per share with 3-years-holding condition. At the present time, the Finance Department is carrying out the negotiation concerning the contract transfer to keep pace with the signing date, December 16, 2007.
The Management Board will finalize the list of strategic shareholders at16:00 on December 15 2007 to facilitate the posting and the closing of the advance dividend payment list of phase 1 for the first semester of 2007.
Announcement Board