ITACO with new opportunities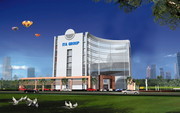 The economy has shown a sign of recovery since early 2014 and has gradually entered a stable stage. The inflow of foreign investments together with the TPP accession opportunity and Japanese and Korean investors shifting investments from China to Southeast Asian countries, including Vietnam has been thoroughly taken advantage of by the Board of Management of ITACO. By the end of August 2014, the Tan Duc Industrial Park particularly attracted 12 new investment projects with a total registered capital of USD 30 million. Therefore, its revenue and profits of the eight months have nearly met its revenue and profit target for 2014.
Since 2014, ITACO has carried out the loan restructuring to reduce the total short-and long-term debt ratio to VND 1,814 billion in the second quarter of 2014 from VND 1,936 billion in 2013. It has significantly reduced its pressure of financial cost and the total debt to total assets ratio to 18%. Besides, its short-term and long-term receivables being always maintained higher than its short-term and long-term debt shows ITACO always ensures a healthy, safe and stable financial situation.
With external advantageous conditions and the existing advantages, ITACO will surely far exceed the 2014 business plan approved by the Annual General Shareholders' Meeting. The primary sources of revenue are expected to come from land leasing in the Tan Tao Industrial Park, leasing of land and factories in the Tan Duc Industrial Park along with the associated ancillary services.
ITACO owns a land bank of more than 2,500 ha (very few companies can own such large area), in which most of the land have been cleared and are invested to complete infrastructure. In its business strategy, ITACO focuses on its strength of investment in infrastructure and development of land for sale and for rent (gross margin of higher than 50%), which has restricted the business risks. The industrial parks developed by ITACO have potential advantages in terms of geographical location and synchronized and sustainable planning with comprehensive support services to ensure satisfaction and create added-value for investors. Therefore, the business prospects of ITACO in the short-term, medium-term and long term are very positive:
- Short term: Giving priority to attract clean, high-tech and precision technology industries to provide added- value for more than 40 hectares of land in the Tan Tao Industrial Park. At the same time, completing additional 25,000 m2 factories in the Tan Duc Industrial Park - Phase 1 to put into operation and bringing the total factory leasing area to 180,000m2 and ensuring a stable income from eight million US dollars to ten million US dollars per year . In addition, ITA will continue to focus on improvements of infrastructure in the Tan Duc Industrial Park – Phase 2 with a total area of 270 ha to catch the inflow of investments when the TPP is signed. Therefore, the land and factory leasing in the Tan Tao Industrial Park and Tan Duc Industrial Park will continue to be facilitated and will be a stable income source of ITACO.
- Medium and long term: The projects including the Kien Luong power and energy industrial complex, Tan Duc Ecity, Hanam cement material industrial park, Tan Tao-Hanel science, high-tech and financial city Industrial Park... will provide the potentials for ITACO in the long-term. Especially, the first phase of the Kien Luong power and energy complex is commenced; ITACO will receive revenue of about USD 300 million from the payment in accordance with the land lease agreement and can sharply increase its revenue in 2015 from this project.
ItaExpress