Tan Tao Group: Invitation to the annual general shareholders meeting - 2011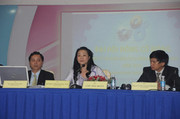 Tan Tao Investment & Industry Corporation announced that the 2011 General Assembly of the company's shareholders will take place on April 28, 2011, at Tan Tao University, Tan Tao University Avenue, Tan Duc Ecity, Duc Hoa Dist., Long An Province
Tan Tao Investment & Industry Corporation would like to invite Shareholder to attend The Annual General Shareholders Meeting 2010.
Time: 14 pm, Thursday, April 28th, 2011
Venue: TTU, Tan Tao University Avenue, Tan Duc Ecity, Duc Hoa Dist., Long An Province.
In order to deliver a good welcoming and receiving service to shareholders, please kindly confirm your attendance and register a pick-up place with Ms. Bao Yen at (848) 3.7505171/2/3/4 before April 20th, 2011.
For the convenience of shareholders, there will the following pick-up places
1. Lot 16, Road 2, Tan Tao IP, Binh Tan Dist., HCM City. time: 13.00pm - 13 30pm
2. 220Bis Dien Bien Phu Street, Binh Thanh Dist., HCMC. time: 12.10pm - 12.40pm
The shareholders attending the Meeting shall bring the documents: Invitation, Letter of Authorization and Identity Card/Passport for the Organizing Board to perform the registration and distribution of the Meeting's documents. In case of authorization, the Letter of Authorization is required to send to Tan Tao Head Office at Lot 16, Road 2 – Tan Tao Industrial Park – Binh Tan District or by fax at 08.37508237 before April 20th, 2011.
File Download:
1. Invitation to the annual general shareholders meeting - 2011
2. Agenda of annual general shareholders meeting 2011