S&P launches index to cover Vietnam's 10 top firms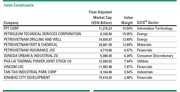 The S&P Vietnam 10 Index is comprised of 10 of the most liquid publicly-traded Vietnamese companies, providing investors with access and tradable exposure to the Vietnamese equity market.
Vietnam represents a challenge to providing true investable exposure because of foreign ownership restrictions coupled with a developing equity market with limited liquidity. The S&P Vietnam 10 Index meets this challenge by offering investors an index with enhanced investability and liquidity based on securities selected from the Vietnamese equity market.
The S&P Vietnam 10 Index is a member of the S&P 10 family of indices which offer transparent and tradable exposure to narrow emerging markets. Other indices in this series include the S&P India 10 Index and the S&P Overseas China 10 Index.
Index Methodology
The S&P Vietnam 10 Index employs a liquidity driven weighting scheme, using the divisor methodology used in most
Standard & Poor's equity indices. The index will be calculated in both U.S. Dollars and Vietnamese Dong.
The index uses an evolutionary algorithm-driven optimization to maximize index basket liquidity at each rebalancing, which
occurs quarterly after the close on the fifth business day of
May, August, November, and February. Since there are foreign ownership restrictions, which have a significant impact on foreign investors' ability to track the index's performance, the availability of shares for foreign investors is reviewed on a monthly basis.
Index Construction
There are two steps in the creation of the Index:
1. Constituent Selection. All stocks in the Selection Universe are sorted in decreasing order of their available foreign ownership market capitalization. If there is a decline
in the available ownership below US$ 5 million for any constituent, that stock may be replaced by a stock outside the index that has the highest available foreign investment. The highest 10 stocks will form the index.
2. Constituent Weightings. To maximize basket liquidity, the weight of each constituent is set at each rebalancing using an optimization algorithm where no stock has a weight of more than 15% and less than 1%. The sum of the weights of stocks with weights greater than 15% is less than 60% of the index.
CRITERIA FOR INDEX ADDITION
Stocks passing the criteria below form the index:
• Universe. Any company trading on the local Vietnam exchanges.
• Foreign Ownership Availability. Each stock must have a current foreign ownership availability above US$ 5 million.
• Market Capitalization. Each stock must have a float-
adjusted market capitalization above US$ 50 million at each annual rebalancing.
• Liquidity. Each eligible stock must have a three-month average daily trading value above US$ 250 thousand as of each quarterly rebalancing.
Index Governance
Index membership and maintenance is governed according to a set of published rules. Factsheets and methodology documents are available at www.indices.standardandpoors.com. The indices are the responsibility of the S&P Index Committee that monitors overall policy guidelines and methodologies.
For more details, please download here.
S&P