The Fifth Meeting of CEOs of ASEAN stock exchanges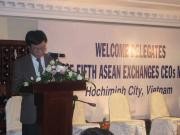 9 March 2008. Tonight, Chairwoman of the Management Board of Tan Tao Group Mrs. Dang Thi Hoang Yen and Vice-President of Finance-Chief Accountant of the Group Ms. Nguyen Thi Suong attended the Gala Dinner held by Ho Chi Minh City Stock Exchange for the delegation leaders and top officials of the ASEAN, Tokyo and Korean stock exchanges at Majestic hotel in Ho Chi Minh City.
In recent years, the Vietnamese economy has developed rapidly with a high and sustainable GDP growth. Vietnam is regarded as one of Asian countries that is especially attractive to international investors.
Vietnam's stock market plays an important role in the economic development of the country. Throughout its over seven years of development since 2000, Vietnam 's stock market has made significant contributions to the socio-economic development of the country, in particular and success of businesses and investors. Vietnam 's businesses quickly grasped opportunities and prepared for the potentials of deep economic integration into the world economy.
Ms. Dang Thi Hoang Yen (second from left) answers Thai correspondent
Tan Somboosub on Bloomberg Channel of Singapore at Gala Dinner
In order to maintain the sustainable development of Vietnam 's financial and stock market, the Government of Vietnam focuses on the cooperation in human resources development and training at the Ho Chi Minh City stock exchange and other stock exchanges in the region. This has laid the foundation for the integration of Vietnam 's stock exchange into stock exchanges in the region and the world.
Being a young stock market, Vietnam need further support and consultancy from other stock markets in the region and the world. The Gala Dinner created condition for CEOs of the ASEAN stock exchanges and investors to exchange opinions and experiences whilst at the same time keeping an eye out for investment opportunities.
At present, the ASEAN stock exchange has 6 members including stock exchanges of Vietnam, Indonesia, Philippines, Singapore and Thailand.
ITA share of Tan Tao Group has been listed on Ho Chi Minh City stock exchange since the November of 2006 and has promptly become one of blue-chips on Vietnam 's stock market.