Tan Tao to open ITA Bank & ITA securities - An interview with Mrs. Dang, Chairwomen of the Board of Management of Tan Tao IP Corp.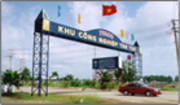 "Tan Tao Industrial Park is your home" - This is the motto that all of our staff have come to embrace during the growth of our company. From this, it is rightly understood that we wholeheartedly take care of serving, helping and accommodating the enterprises that choose to work with us.
Interviewing Mrs. Dang Thi Hoang Yen – Chairwoman of the Board of Management of Tan Tao IP Corparation.
Question: Tan Tao Industrial Park is the origin of today's ITA GROUP. How would you sum up Tan Tao Industrial Park?
Answer: "Tan Tao Industrial Park is your home" - This is the motto that all of our staff have come to embrace during the growth of our company. From this, it is rightly understood that we wholeheartedly take care of serving, helping and accommodating the enterprises that choose to work with us. We have surveyed and applied the best polices, rules and authorities found in other models of industrial park. We also provide extensive legal advice for investors. As well as completing the infrastructure - especially IT infrastructure systems - we support enterprises that borrow capital to pay for their land rental, factories, supplementing working capital, construction and innovation, machinery, raising the production capacity and even ability for competition. Thanks to that, up to now, this industrial park has attracted 204 domestic investors with total registered capital up to VND 5,309 billion as well as 34 foreign investors with total capital over USD 140 million. Currently there are 184 companies coming into operation, creating more than 20,000 job opportunities.
Q: The success of Tan Tao Industrial Park Corporation after just 10 years of development are incredibly impressive to many people. Can you reveal the secret of your success?
A: We are still sharing our method and experience with Vietnamese enterprises and other locals that wish to learn from us. What I said above is the "secret". However, the key to creating the success and assurances for stable development of ITA-GROUP come from human resources. Understanding this, the Board of management of ITA-GROUP has always paid attention to supporting and creating the best conditions for training and improving professional skill as well as providing an attractive salary policy that combines general salary with reward stocks. This allows the income of staffs to be many times greater than a simple salary alone.
To celebrate the 10-year anniversary of Tan Tao Industrial Park, we rewarded 300 our staffs with VND 33 billion of shares. That was worth some VND 260 billion at the market price at that time, so each staff received the equivalent of 10 years income. At present, ITA-GROUP is made up of nearly 400 staffs. Almost of them have 1 or 2 university degrees, amongst which there are 12 managers have master and PhD degrees that have trained both at home and abroad.
Q: After having listed shares on stocks exchange, ITA-GROUP have begun to contribute capital for investment in great projects of many fields such as construction, investment for the construction of highways, waterworks, a power plant, a Cinema film studio, a College and the producing and exporting of rice…Will these ambitions bring in good results for shareholder?
A: We do not deny that these are great ambitions. More exactly this is the "big dream." But this dream is carefully considered and analyzed. We have worked out the exact factors and conditions that will allow the highest possible success. In fact, the projects concerned with constructing highways, waterworks and the power plant are not so new to Tan Tao. This is because over the past 10 years the development activities of the Industrial Parks have always included similar projects, though admittedly on smaller scale. Because of our careful planning and preparation, as well as our experience, all of these projects will certainly bring great effects.
Other projects, such as the production of fragrant rice for exportation (according to GAP standards) will be completed in steps. We hope to eventually be producing rice over 12,000 ha. with a total capital of up to VND 4,400. At first however, we will begin with a representative model area of 100 ha. in co-operation with Professor Vo Tong Xuan and the University of An Giang. Following these trials the task of the Management Board and General Director of ITA-Group will be how to balance the rate of investment at each incremental step upwards in production in order to achieve the highest effect.
Q: When seeing the investment list of 2007-2008, many people feel that ITA-GROUP is concentrating a lot of its resources into Long An province through a number of major projects that have a total capital of up to VND 2,500 billion. Why is there such a concentration?
A: During the past 10 years, Tan Tao concentrated on HCMC. HCMC is defined as the leading industrial center of our country. Nowadays HCMC is changing in direction to become a centre of high technology and finance. ITA-GROUP also must change the direction by investing in other regions that have need to develop in accordance with the new situation. Long An borders on HCMC and located at the main economic area of the South. As the gateway to Me Kong Delta, it has convenient conditions for its development into a modern industrial province. The provincial government has created conditions for ITA-GROUP to invest and develop, with the goal to by 2015-2020 make Long An one of the leading industrial provinces of the country. This goal has the support of Government and other related authorities.
Question: What will ITA-GROUP do initially in order to assure the finance source to carry out successfully the national stature projects?
We need to assure a balance of capital source of VND 1,500 billion in 2007 and VND 5,000 billion in 2008. This will allow us to successfully carry out our projects and get a benefit rate of 30% in the years of 2007 and 2008 as per resolution of the board of management. We will co-operate in investment with some partners, who have both experience and financial potential in Vietnam and abroad in order to set up ITA Bank, ITA Securities and Investment Fund Management Corporation.
By: Thoi bao Kinh te Viet Nam
Translator: Ngoc Tran