What does ITA have?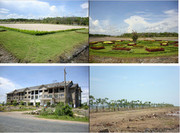 The market is created by humans and affection always predominate reason. Fear and greed will boost stock price higher or make it lower than the true value of the company. Therefore, to achieve a sustainable success, the real value, advances and prospects of the company should be viewed and evaluated.
With the market capitalization of about US$ 300 million, what is the true value of ITA stock?
1. More than 40 hectares of the Tan Tao Industrial Park, located in the National Highway 1A at an average price of US$ 220-> US$ 500 per square meter = US$ 120 million.
2. The Tan Duc Industrial Park, Service and Residential Complex of 1,200 hectares in Duc Hoa Town comprised of university, hospitals, freight forwarding warehouse, 26 km from the downtown HCM City, worth over 500 hectares x US$ 100 = US$ 500 million.
3. The Kien Luong coal-fired power project changing investment form from BOO to BOT with the participation of big foreign investors is scheduled to launch construction in 2018 and will bring at least US$ 300 million to the Company
4. The 'golden' land of 1.4 hectares in Nguyen Huu Canh Street, Tan Cang. This project is heating up because it is the place where the VINCOM is deploying construction of a 40-ha residential, trade and service complex, which is considered the most beautiful in Southeast Asia. Worth US$ 26 million.
5. The modern warehouse of over 150,000 m2 have been developed and is available for lease to investors with a stable income of nearly US$ 8 million per year, worth at least US$ 60 million.
6. The Ha Nam cement plant project, the water plant in Long An, hydro plant in the Central Region ... are worth not less than US$ 150 million.
7. And many other projects as clean rice growing and distribution project, high-tech agricultural area, or Sai Gon Mekong project, Tan Tao-Hanel high-tech project in Hanoi .... will provide great potentials and bring added value for the ITA in the coming time.
Based on the preliminary evaluation above, the total assets of the ITA will be worth no less than US$ 1.2 billion. The most valuable thing of ITA is the core value provided to investors. The number of industrial parks in Vietnam is now too large; nevertheless, only industrial parks with a solid development model and good direction can achieve high profitability. Services and utilities of water, electricity, logistics, and labor ... are the right way for developers of industrial park infrastructure, in which ITA always pioneers and sees it as a guideline in its development strategy. The rapid development of industrial parks will attract capital and human resources, technology…and the changes in quantity will transform into quality. The ITA will take the best advantage of the added investments to develop successfully.