Free health check-up for women workers in Tan Tao IP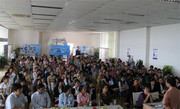 The healthcare workers program of the Taserco Corporation, an affiliated company of the ITA Group, was launched by a health consultation day on November 13 for women workers of the enterprises operating in the Tan Tao Industrial Park.
This consultation activity was held by the Tarserco Corp. in coordination with the Vietnam-US High Technology Dairy Corporation and experienced doctors from the Ho Chi Minh City Medicine and Pharmacy University and the Pasteur Institute.
The doctors gave them the information about gynecological diseases, congenital rubella syndrome, Hib/measles/ mumps vaccines and preventive methods.
Lots of women workers participate in the health consultation day in the Tan Tao IP.
Doctors give women workers the information on female diseases and preventive methods
On next Sunday, November 16, the Tan Tao IP Clinic will coordinate with the Labor Union of the Ho Chi Minh City Export Processing and Industrial Zones Authority (Hepza), the HCM City Medicine & Pharmacy Hospital, Hung Vuong and Tu Du Hospitals and Tri Nghia Pharma Company to provide free health check-up to women workers in the Tan Tao Industrial Park.
Itaexpress