"Vietnam - Asia's Rising Star" - International Economic Conference Opens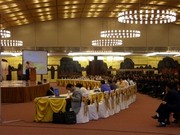 The conference will take place January 8 and 9, 2008 at the National Convention Center in Hanoi.
The conference will include four events: Business Roundtable; Enterprise Exchange Conference; Business Star Awards; and Cultural and Artistic performance. The conference, held for the first time in Vietnam, will be coordinated by The World and Vietnam Newspaper and the British newspaper The Economist. The conference will be attended by Prime Minister Nguyen Tan Dung, Deputy Prime Minister and Minister of Foreign Affair Pham Gia Khiem and five other ministers, as well as hundreds of large corporations worldwide and in Vietnam.
Tan Tao Group will bring to the conference information about the establishment and development of the Group and its subsidiaries, as well as completed and ongoing projects full of economic potential, through exhibitions, stores and information channels in the conference. This will also be an opportunity for domestic and foreign investors seeking investment & partnership opportunities with one of the largest economic groups.