Press Conference on Business Roundtable with Vietnam Government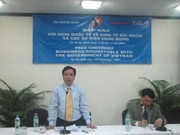 17 December 2007. At the Ministry of Foreign Affairs (Ho Chi Minh city) a Press Conference on the Business Roundtable with the Vietname Government was held by Mr. Vu Son Thuy, Editorial Director of World & Vietnam newspaper, Deputy Head of the Conference Organization Board and Mr. Thai Van Men, the General Director of Tan Tao Group.
The Press Conference introduced the conference's program which is to be held on 8-9 January 2008 in the Hanoi National Conference Center. There are to be 4 events: a Roundtable conference; a Business Exchange Conference; a award ceremony to honor achievements in business and Cultural-Artistic performances.
The Conference will be attended by Prime Minister Nguyen Tan Dung, Deputy Prime Minister and Minister of Foreign Affairs Pham Gia Khiem and five other ministers as well as over 100 transnational corporations and over 200 Vietnamese business representatives.
The Conference will consist of two open sessions and one closed session. Open sessions will help create favorable conditions for dialogue between foreign businesses, the Vietnamese Government and Vietnamese business communities, and allow all participants a better understanding of the business and investment environment in Vietnam.
At the conference, 36 prizes will be awarded to outstanding businesses and divided into several types: Largest Vietnam enterprises (10 prizes), Most successfully integrated enterprises (10 prizes), Most effective management enterprises (10 prizes), Business Stars (5 prizes) and Business Superstar. The winners will be published in the public media and presented to 82 representative offices of the Vietnamese Ministry of Foreign Affairs abroad and in participating countries.
At the introductory press-conference, Mr. Vu Son Thuy answered questions concerning the Conference that had been raised by news and press agencies concerning the scale, competitions, participating enterprises and members of Organization Board of the Conference.
Press Conference's pictures
Press Conference
Mr. Thai Van Men made a speech at the Press Conference.