Tan Tao Group offered 210 scholarships to Hanoi students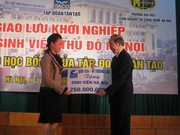 On January 10, 2008, at Hanoi University of Business and Technology, the Vietnam Association of private colleges in coordination with Ita-Foundations for Future organized the Ceremony of offering scholarships to the Capital students" for students in difficult situations at the universities in Hanoi area.
The Ceremony aimed to award students in difficult situations in Hanoi achieving good-grade studying results and who continued to strive to better their study. Moreover, the Exchange created the opportunity for students to meet successful businessmen and learn from their business experiences as well as their life.
During the program "Business Start-up Exchange with Hanoi students and the Ceremony of offering scholarships of Tan Tao Group", ITA-Foundations For the Future of Tan Tao Group offered 210 scholarships with a total value of VND 250 million to poor students who achieved good studying results. Each scholarship, worth VND 1 million, was given to good-grade students and 10 computers were given to 10 of the highest graded students. Students receiving the scholarships in this phase will continuously be offered scholarships in next terms if they continue to maintain good studying results and achievements at university.
The Exchange took place in the warm and joyful atmosphere with the exchanges of Ms. Dang Thi Hoang Yen, Chairwoman of the Management Board of Tan Tao Group, answering the questions raised by correspondents, teachers and students during the program.