Tan Tao security and fire brigade makes good performances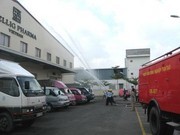 Under the motto "Serve and serve", the Management Board of the Tan Tao Industrial Park has created favorable conditions for all enterprises to operate their businesses in the "Tan Tao common home". In addition, the fire and security brigade of the Tan Tao IP has frequently supported to maintain the safety of the assets and property of the enterprises.
The outstanding performance of the fire brigade was also disclosed by the ITA Group's representative on November 18 during the meeting with the Editorial Board of the "National Security" program of the HCM City Television Station, the HCM City Fire Prevention and Fighting Department and Vietnam Radio at the head quarter of the Tan Tao Investment & Industry Corporation.
Furthermore, the IP 's Security Team frequently coordinates with the City's Military Command, local police and security teams of the enterprises operating in the Industrial Park to deal with the violations to fire safety rules and social security in accordance with the State laws.
The brigade, comprised of 52 persons, has been well-equipped with three fire-engines, three patrol motors, ten handie-talkies and other facilities with continuous 24 hour on duty. Fire safety training courses are also annually held to enhance the fire prevention and fighting skills for the handling of emergency cases.
In 2008, with the assistance of the Ho Chi Minh City Industrial and Processing Zone Authority and the Fight Prevention and Fighting Department of Binh Tan District, the Tan Tao IP fire brigade, together with 15 enterprises in the Industrial Park, conducted a successful fire fighting drill.
Viet Thang (Translated by)