The opening of Tan Duc Kindergarten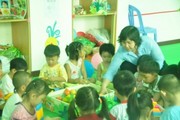 On June 4, Tan Duc Kindergarten was officially put into operation at 24A, Tan Duc Residential Area, Duc Hoa, Long An. There are two nursery classes and two kindergarten classess looking after children of all staff and employees working for Tan Duc Industrial Park, Tan Tao Group and Tan Tao University.
With properly-invested infrastructure and facilities such as spacious and airy class rooms, recreation centre with a lot of mental-stimulating tools for kids; and with well-trained teachers for nursery care, Tan Duc Kindergarten has lived up to the expectation of the parents working for the Group. Located in Tan Duc Residential Area, the kindergarten has safe and healthy environment which is very advantageous for children's health and development. Every month they are also organized to visit Tan Duc swiming pool for outdoor activities.
Business development associating with welfare activities for staff and employees has been the tradition of the Group. It can be said that the birth of Tan Duc Kindergarten is a shining light ensuring an excellent living and learning environment to the children and supporting their parents to work and continue their devotion to the Group.